Oh how I love the summer! Bodybuilding competitions are over for a few months, the weather is divine, and so many foods to eat and drinks to drink. My latest adventure took me to the mountains of Burke County, North Carolina, where there's beer, whiskey, and barbecue as far as the eye can see.
The first pitstop was JD's Smokehouse for some famous barbecue in the town of Rutherford College. JD's specialties are hardwood-smoked meat plates and myriad side dishes including such delights as Brunswick stew, jalapeño cheese grits, and sweet potato crunch.
All of the meats come unsauced so that you can sauce them yourself with the variety of sauce choices on the table. I of course selected the spiciest offering to jazz up my chicken and pork. (The picture above was taken pre-sauce.) For my sides I went with my favorite classics: baked beans and macaroni & cheese. I was not disappointed!
After some adventures (which I'll write another post about), it was off to the very hip root + vine for drinks and dinner. I made an excellent decision in choosing the below golden stunner for my drink order – it was "A Very Merry Un-Birthday to You" IPA from Fonta Flora. First of all, the name. Duh. And secondly, it was DELICIOUS. I think I had three more throughout the weekend because I loved it so much, and I even ended up purchasing two growlers of it. One to share with friends, and one for me!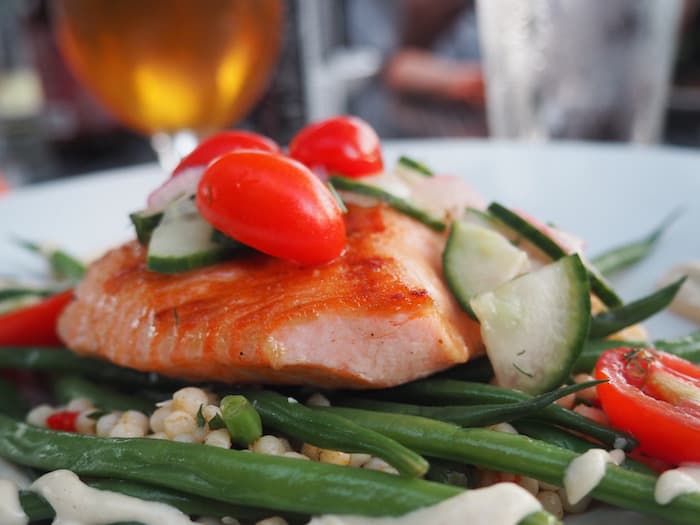 After dinner, we headed to Fonta Flora brewery (the home of the amazing beer above) to check out their other offerings. I couldn't bear to order anything else but my new favorite IPA, but some others I was with ordered beer flights. Flights are always a great way to get a lay of the land at a new brewery.
The following day, we switched gears a little bit and headed to Blue Ridge Distilling, where they make Defiant single malt whiskey. I'm not usually a whiskey person (I think it tastes like crayons), but I was extremely impressed by this one. It was drinkable, smooth, and entirely un-crayon-y.
Defiant is different because it's not aged long – only 60 days – because instead of using oak barrels, they infuse the whiskey with flavor by including American white oak spirals (peep one in the lower left corner of the photo above). It only takes 60 days for the whiskey to displace the oxygen space in the oak, meaning it's been fully infused.
Tim Ferris, co-founder of Blue Ridge Distilling gave us a great tour of the place, walking us through the process of whiskey-making, and even let us sample a new rye whiskey they're developing which isn't yet on the market.
Want to go on a tour like this? You're in luck, because Burke County offers Beer, BBQ, and Whiskey Trolley Tours to the public! Tours last six hours (11 a.m. to 5 p.m.) and typically cost $45 per ticket. Visit www.DiscoverBurkeCounty.com or call 888-462-2921 to book!
Their websites are listed below if you'd like to check out the places I visited while in Burke County, NC. Happy food babyin'!
Related Posts