There's nowhere I'd rather be in the fall than where the leaves are changing colors, and one of the most beautiful color shows I've ever seen is in Burke County, North Carolina.
I happened to visit Morganton and the Linville Gorge area on a press trip at peak leaf-peeping time last October and it was awe-inspiring.
Best Ways to Experience Fall Colors in Burke County NC
Tandem Hang Gliding in the Foothills
After successfully tackling dune hang gliding in the Outer Banks, I was psyched to try hang gliding in the foothills of North Carolina's Blue Ridge Mountains. It was an experience too good to pass up! I arrived at Thermal Valley Hang Gliding on a beautiful day and weather conditions were perfect for flight.
At Thermal Valley Hang Gliding, all you have to do is relax and enjoy the view. You'll ride tandem with an USHPA certified aero-tow tandem hang glider instructor with 28 years of experience and a huge personality. Lying tummy down in a harness, you're free and encouraged to fly like Superman as you ride the thermal waves and soar through the air for about 9-14 minutes.
The instructor will teach you how to turn the glider if you'd like, or just relax and enjoy the long views to Grandfather Mountain, Hawk's Bill and Table Rock.
Another huge perk to hang gliding at Thermal Valley is that you don't have to land on your feet. The gliders are set up with wheels so you roll in for a landing!
It was an exhilarating ride and I highly recommend it!
Linville Falls Hike
Burke County's Linville Falls is the most famous waterfall in the Blue Ridge Mountains because it's right off the Blue Ridge Parkway. (Take Spur Road at Mile Post 316 to the Visitors Center.) Visitors can choose from several trail options to hike to Linville Falls; the main trails are Erwin's View, Linville Gorge and Plunge Basin.
We took the Erwin's View Trail to Erwin's View Overlook, a moderate .8 mile hike.
From the visitor's center, we crossed a bridge over the Linville River and could already see magnificent fall colors!
After winding through a beautiful old-growth hemlock forest, we reached the overlook and Linville Gorge was ablaze with color.
What a view from 3,330 feet up!
With fall colors at their absolute peak in Burke County NC, it was a magnificent hike and the vibrant hues of Autumn were spectacular beyond belief.
If you want to get close to the thundering water and you're up for a more challenging hike, take the Linville Gorge Trail from the visitors center as it takes you down into the gorge and to the base of the waterfall.
If you're driving the Blue Ridge Parkway, I highly recommend making a pitstop to hike to Linville Falls.
Table Rock Hike
I'd been warned that our 2-mile round-trip hike to the summit of Table Rock (3,930 feet) would be the most strenuous hike we'd make on our press trip while visiting Burke County.
The distinctive rock formation appears flat from a distance but it's actually a rocky ridge top and a popular spot for rock climbers.
The trail was rated as moderate, but I'd categorize it as moderate-strenuous. It was a tough hike … and I had to stop to catch my breath, drink some water and let my muscles rest more than a few times along the relentlessly steep and rocky climb. The elevation gain was intense and the trail was uneven and full of rock steps, roots and boulders. In several areas, a bit of rock scrambling was necessary.
But, it was worth it! SO worth it.
The fall foliage views along the ridge trail were magnificent, making the ascent more gratifying!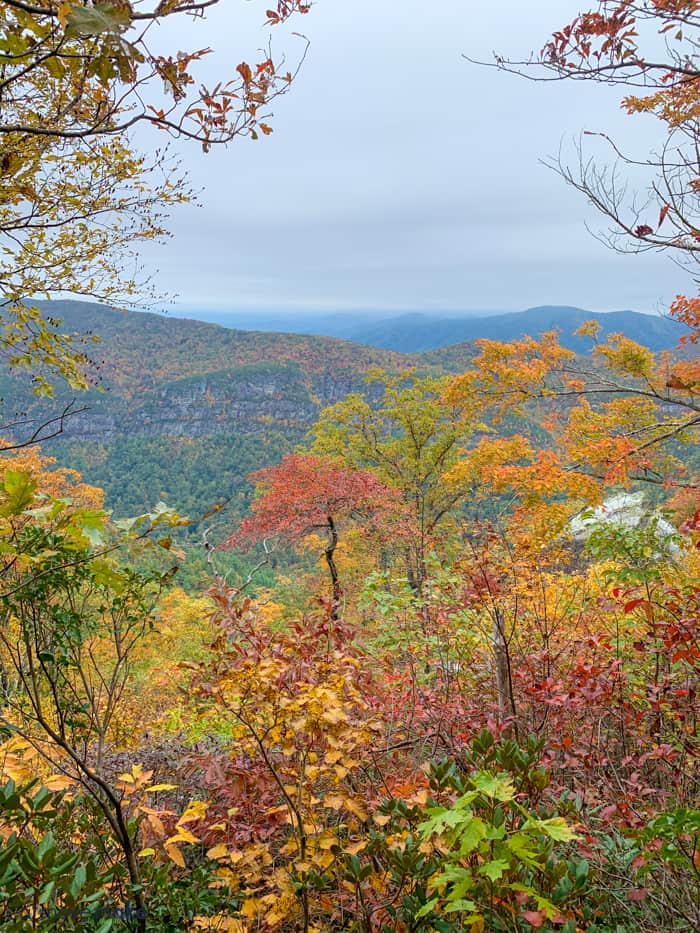 When you reach the summit, you'll enjoy a 360-degree panoramic view you'll never forget.
Tip: When you get to the top, use the PeakFinder app to help you spot the Chimneys, Grandfather Mountain, Sugar Mountain and Hawksbill. It works without internet!
Recommended for this hike:
Wear layers, shoes with good traction, bring plenty of water and use a good hiking stick.
Look for the Brown Mountain Lights at Brown Mountain Overlook
A series of unexplainable ghostly lights have been seen intermittently for hundreds of years in the area around Brown Mountain and people come to Burke County from all over in the hopes of spotting them.
The best viewing location is at the Brown Mountain Overlook (Highway 181 between mile markers 20 and 21) in the evening hours, but the lights have been spotted from other vantage points as well. Maybe you'll be lucky and catch a glimpse of this unexplained phenomenon. (Many songs and books have been written about it.)
Not into the unexplainable? The Brown Mountain Overlook is also just a beautiful place to stop during the day. Mountain views never get old.
Take the Fonta Flora State Trail Walk
Burke County's new Fonta Flora State Trail is the perfect way to spend a couple of hours outdoors if you're looking for less of a hike and more of a nature stroll.
Open year-round, the natural surface trail is mostly level with a few gentle grades and offers hikers and bikers stunning views of Lake James.
The well-cut trail wanders through the woods so keep an eye out for birds, plants and wildlife.
I loved how mushrooms were growing up the curving branches of the footbridges.
The trail eventually approaches the shores of Lake James and the scene looked especially beautiful with the Autumn backdrop of red, gold and russet leaves.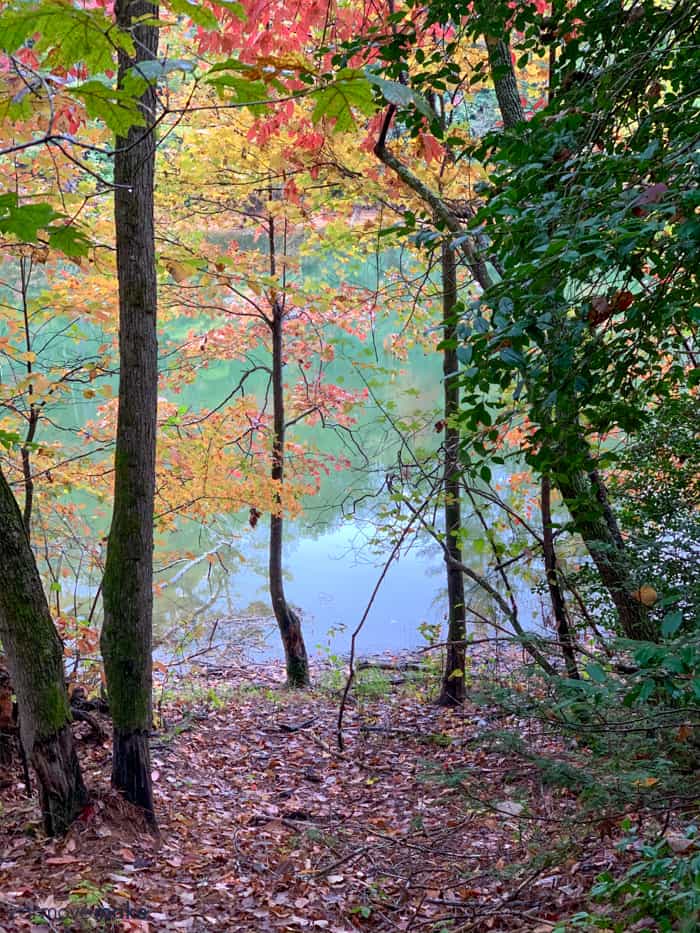 But the best view was yet to come. Breathtaking!
The completed section of the Fonta Flora State Trail we hiked is just a small portion of a long-term 100-mile plan to connect Morganton to Asheville.
Pin this post to Pinterest!
For more info on the area, visit discoverburkecounty.com.
More Fun in North Carolina