Extra! Extra! The Eliot Ness Fest in downtown Coudersport, PA, is one of the best U.S. festivals I've been to thus far.
The annual Eliot Ness Festival celebrates the historical and cultural significance of Eliot Ness with a weekend of prohibition-era-themed fun, and we're sharing what you can look forward to when you attend. Please read all about it!
Read more: The Darkest Skies East of the Mississippi Will Take Your Breath Away
What is the Eliot Ness Fest?
The Eliot Ness Fest celebrates Coudersport's famous son with a three-day festival full of everything that made the Roaring Twenties so memorable: Prohibition, speakeasies, flappers, jazz, movies, vintage automobiles, and of course, Eliot Ness's relentless pursuit of Al Capone.
I went into the festival fresh from viewing "The Untouchables," the iconic Hollywood version of Eliot Ness's Chicago years. But, truth be told (and spoiler alert), it wasn't until the festival that I realized much of what I'd believed to be true in the movie… just wasn't.
I know. I'm still reeling.
Fortunately, both the fictionalized Eliot and the real Eliot are worthy of celebration, and the festival does it up with a bang.
Those Roaring Twenties
Flapper dresses and pin-striped suits. Cloche hats, headbands, and bowlers. Fringe, feathers, sequins, shawls, and long pearl necklaces – the vintage party glamour of the Roaring Twenties was everywhere (even during the daytime).
Vintage Car Show
A walk down Main Street lined with antique vehicles from the 20s and 30s transported festival-goers back in time to the early days of the automobile. Some cars were restored to perfection, some were left untouched and showed their age, but all lent authenticity to the period and were arguably the festival's heart.
A Saturday afternoon parade gave everyone another good look at each automobile.
It was Prohibition, but…
If you knew the password to Jack's Place, you could enter an old-fashioned speakeasy with bootleg liquor, games of chance, photo ops, and a Roaring '20s Dance and Costume contest on Saturday night.
Another juice joint was across the street at Hotel Crittenden, where the bar used to drop through the floor into the basement when the law came around. Live music added to the atmosphere, and there were special festival menus with Prohibition-themed cocktails.
Gangsters vs. G-Men
Throughout the weekend, costumed characters took to the streets for mobster mayhem in the form of street theater. Each performance lasted just a few minutes, but that's all it took to hijack a shipment of illegal booze or for Eliot Ness to finally get his man.
The Real Eliot Ness
The Coudersport Theater hosted several presentations and movies highlighting Eliot's career in Chicago, Cleveland, and Coudersport. Unfortunately, I knew nothing about his years in Cleveland fighting corruption and trying to catch the notorious serial killer!
And yes, there was a showing of The Untouchables.
The authors of the two most comprehensive and accurate Eliot Ness books shared their insights and discoveries, and there was a fascinating then and now look at law enforcement vs. organized crime. I even had the chance to pick up a Tommy Gun.
Was Al Capone Just Misunderstood?
For those who purchased tickets to "Pasta with Capone," it included a classic Italian lunch with Scarface himself at La Famiglia OIP. After our meal, Al tried to persuade us that he's not such a bad guy.
The baseball bat said otherwise.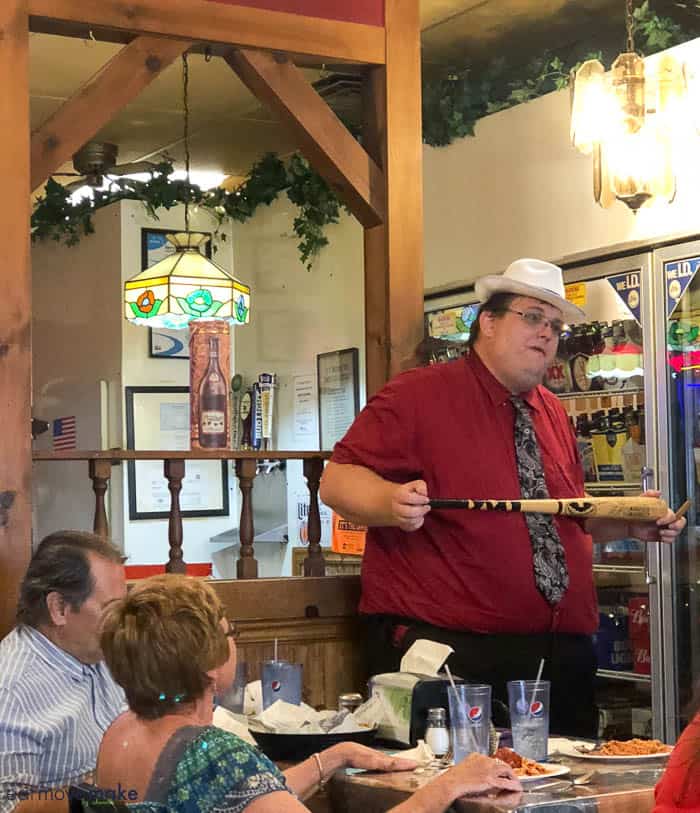 Find the Missing Body Parts
While living in Cleveland, Eliot worked tirelessly to find the notorious serial killer known as the "Mad Butcher." Not only was there an option to watch a film at the theater about the still unsolved Kingsbury Run murders, but there was also a scavenger hunt throughout downtown Coudersport for body parts.
Seriously. I couldn't make that up.
Follow in Eliot's Footsteps
Two tour options gave festival-goers some historical context for Eliot's life. There was a guided van tour with some fascinating Potter County Prohibition history and a self-guided tour of Eliot's last walk, which finished at the home where he lived out his final days.
I've never spent more than a few hours at a festival, and I spent two days at the Eliot Ness Fest. Next time, I think I need to go in costume! By the way, besides tickets to Lunch with Capone, I paid for everything on my own.
Eliot Ness Festival Tips
Accommodations: The area has limited hotels and motels (no chains), so reserve a room well in advance. I've stayed at both Hotel Crittenden and Frosty Hollow Bed and Breakfast. I loved them both!
Tickets: Some events are ticketed and should be reserved ahead of time. Watch the festival site and Facebook page for details.
Parking: Parking is tricky, but the festival map will help guide you to parking lots and shuttle sites. (Be sure you don't park on Route 6 overnight!)
Festival Info: There are festival tents with information, maps, guides, and food and craft vendors in the park. Porta-potties can be found there as well. (Coudersport, PA 16915)
Contact VisitPotterTioga.com for help in planning your visit.
More to Explore