If you're looking for the best things to do in Meridian, MS, you're in luck! I'm sharing everything I learned including some really cool hidden gems. (I made a pit stop to Meridian on my way home from celebrating Mardi Gras in Shreveport.)
Whether you're interested in outdoor adventure, cultural experiences, or historical landmarks, the "Queen City" magic of this vibrant community will leave you charmed.
So, let's dive in and explore some of the top things to do in Meridian, Mississippi!
Read more: Best Things to Do in Monroe, LA & West Monroe + Where to Eat
Taste A Legacy of Flavor at the Oldest Restaurant in Mississippi
Since its founding in 1870, Weidmann's has been serving up delicious Southern cuisine. One of its most beloved traditions is that of the peanut butter crock. Various crackers and a handmade peanut butter crock are placed on every table.
Local legend has the tradition dating back to WWII when there was a butter shortage—voila, peanut butter. A Mississippi potter makes the crocks which are also available for purchase.
Today, Weidmann's is a cherished institution that continues to draw people from near and far, all eager to experience the magic of this historic restaurant and taste the flavors that have made it a Southern legend.
Other popular restaurants in Meridian MS include Jean's, Amore Italian Restorante, Harvest Grill and New's.
Discover the Roots of American Music
Journey with Jimmie Rodgers from hobo to hero as you explore the Father of Country Music's fascinating life and legacy at the Jimmie Rodgers Museum. The museum is supported by the Jimmie Rodgers Foundation.
Born in Meridian, Rodgers pioneered the country music genre, blending elements of blues, jazz, and folk music to create his unique sound. His singing style eventually landed him in multiple music halls of fame: country music, singer/songwriter, rock 'n roll, and blues, and he remains the only artist with this distinction.
Sadly, he only lived to age 35 due to tuberculosis. He's buried in Oak Grove Cemetery in Meridian, but his lasting legacy inspires generations of musicians.
Pro Tip: Consider visiting during the annual Jimmie Rodgers Festival, America's longest-running music festival. (The next Jimmie Rodgers Memorial Festival is set for May 6-14, 2023.)
Get Wowed at The MAX
2155 Front St., Meridian
The Mississippi Arts Entertainment Experience, or MAX, immerses visitors in Mississippi's legacy of visual, cultural, performance, literary and cultural arts. Every gallery features state-of-the-art interactive experiences that will absolutely wow you. (It's so much fun to design quilt blocks and virtually throw pottery.)
Music surrounds you as you explore the 15 galleries, sometimes taking center stage when you create jam sessions with your favorite Mississippi musicians in the music room or when the Mississippi Mass Choir takes you to church.
I can't say enough about how extraordinary the technology is. Visitors of all ages will have the time of their lives at one of the best museums in the United States. (Don't miss the gift shop!)
Go For a Spin on a Dentzel Carousel
The Dentzel carousel in Meridian's Highland Park was manufactured in 1896 by Gustav Dentzel and is the only working two-row stationary Dentzel menagerie carousel in existence. The hand-carved wooden animals (made from bass and poplar wood) and the oil paintings on the carousel crown are utterly magnificent.
The carousel is housed inside its 1909 pavilion—the only remaining original carousel house built from a Dentzel blueprint. The carousel and its house are listed on the National Register of Historic Places and are National Historic Landmarks and Mississippi Landmarks.
Riding the carousel is one of the most memorable things to do in Meridian, MS, so make sure to fit it into your itinerary. Open days/hours change seasonally. Rides: $1, Tours $2. Check with the City of Meridian Parks and Rec Dept. for details.
See Some Live Music Magic
Music magic happens at the MSU Riley Center (Mississippi State University.) Also known as the 1889 Grand Opera House, the building is listed on the National Register of Historic Places. The Grand Opera House originally hosted operas, concerts, traveling vaudeville and minstrel shows, and silent movies. The advent of modern movie theaters led to the Opera House's closure in 1927.
After years of renovation and restoration with the support of the Riley Foundation, the Grand Opera House (now the MSU Riley Center) has returned to its original grandeur and hosts nationally touring artists with live music, comedy, and theater. If you visit the events center while you're in town, you'll be able to marvel at the architecture and furnishings up close. Look for the painting of "the lady" on the lambrequin over the stage.
Explore Whispers of the Past
If you like quirky, fun things, you'll want to visit the historic Rose Hill Cemetery. It's the final resting place of Emil and Kelly Michell, the King and Queen of the Gypsies. The graves are easy to spot, covered with beads, trinkets, and coins.
Also in the cemetery is the Confederate Burial Mound, a stop on the Meridian Civil War Trail.
Fun Fact: Each fall, during the Rose Hill Cemetery Costumed Tour, volunteers (dressed in period costumes) stand beside specific graves and tell their stories.
Raise a Glass at Mississippi's First Microbrewery
Threefoot Brewing is located in an old 1924 Merchant and Farmers Bank in downtown Meridian and is very family-friendly and pet-friendly—they make "Hound Dog" biscuits from spent grain, peanut butter, and bananas.
The owner is a huge Spaceballs and Star Wars stan, so some of the beers are named in homage to the films, but all of the beer names have stories. Flagship beers include the Local Brown, Imperial Honey, and Sandbar Ale.
Threefoot Brewing also serves a selection of pub-style food and appetizers.
Marvel at a Magnificent Mansion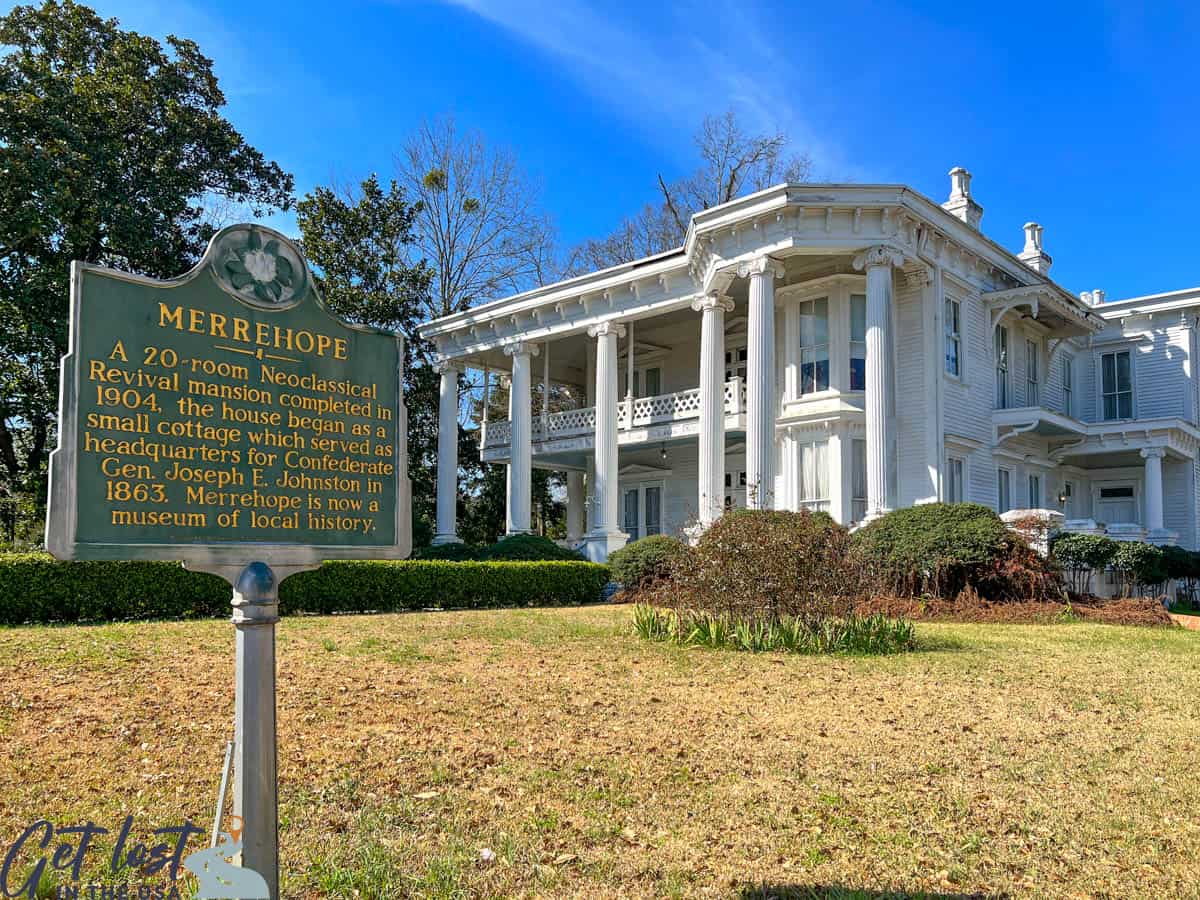 There are only two historic homes open for public tours in Meridian: Merrehope and the Frank W. Williams Home adjacent. Merrehope is a 20-room mansion in the Neoclassical Revival style. One of the few buildings to survive General Sherman's Civil War attack, it's now a Mississippi Landmark and on the National Register of Historic Places.
Take notice of the exceptional woodwork on the stairway railings and mantels, and there are many unusual architectural features throughout. Be sure to explore the garden and grounds as well.
The Frank W. Williams home next door is a prime example of Queen Anne Victorian architecture with gingerbread trim, parquet flooring, oak paneling, and stained glass.
Buzz Through the Boutiques
Shop small in Meridian! Take a stroll along Front Street and pop into The Crooked Letter for a delightful collection of Mississippi-made items or stop in the Liberty Shop for your next fashion find.
Music fans, be sure to hit up Meridian Underground Music and its impressive collection of new and used CDs, vinyl, instruments, and merch. The nationally recognized store is well-known for supporting the contemporary sounds of independent artists and often hosts live music events. And for collectors, the United States Rare Coins & Currency shop might be a great place to treasure hunt.
Another Meridian area option (outside the downtown area) is to visit Uptown Meridian (formerly Bonita Lakes Mall), with retail shops, movie theaters, and eateries.
Stroll the Star-Studded Sidewalks
Everyday adventurers of all ages will love following the Mississippi Walk of Fame. Beginning at the MSU Riley Center, follow the trail of bronze stars embedded in the sidewalks all the way to the Mississippi's Arts + Entertainment Experience.
The Walk of Fame celebrates the entertainment legacy of dozens of celebrities like Morgan Freeman, Elvis Presley, Muddy Waters, and John Grisham. More stars are added each year.
Explore a Vintage Venue
The Hamasa Shrine Temple Theater was originally built in 1927 for vaudeville and silent films and had one of the largest stages in the United States at that time. The lighted marquee is well worth a look!
Today, the Temple Theater is listed on the National Register of Historic Places and serves as a performing arts venue for music, theater, dance, and classic movie viewings.
To continue the theme of the Mississippi Walk of Fame, the Temple Theater has some celebrity handprints on its sidewalks, so take a look at those too!
Go on an Art Adventure
The Meridian Museum of Art (MMA) is housed in the historic Old Carnegie Library building, constructed in 1912-13, and is listed on the National Register of Historic Places. If nothing else, do a drive-by to admire the architecture.
There were originally two Carnegie Libraries in Meridian; sadly, one was built as a white library and one as a black library. When the libraries integrated, they moved to a new third location. The MMA is in the former white library, and the former black library sat vacant until 2008, when it was torn down. (There's a historical marker there now.)
What's inside? The museum's art galleries feature the work of regional artists, and the museum hosts art workshops and classes throughout the year.
Take a Street Art Safari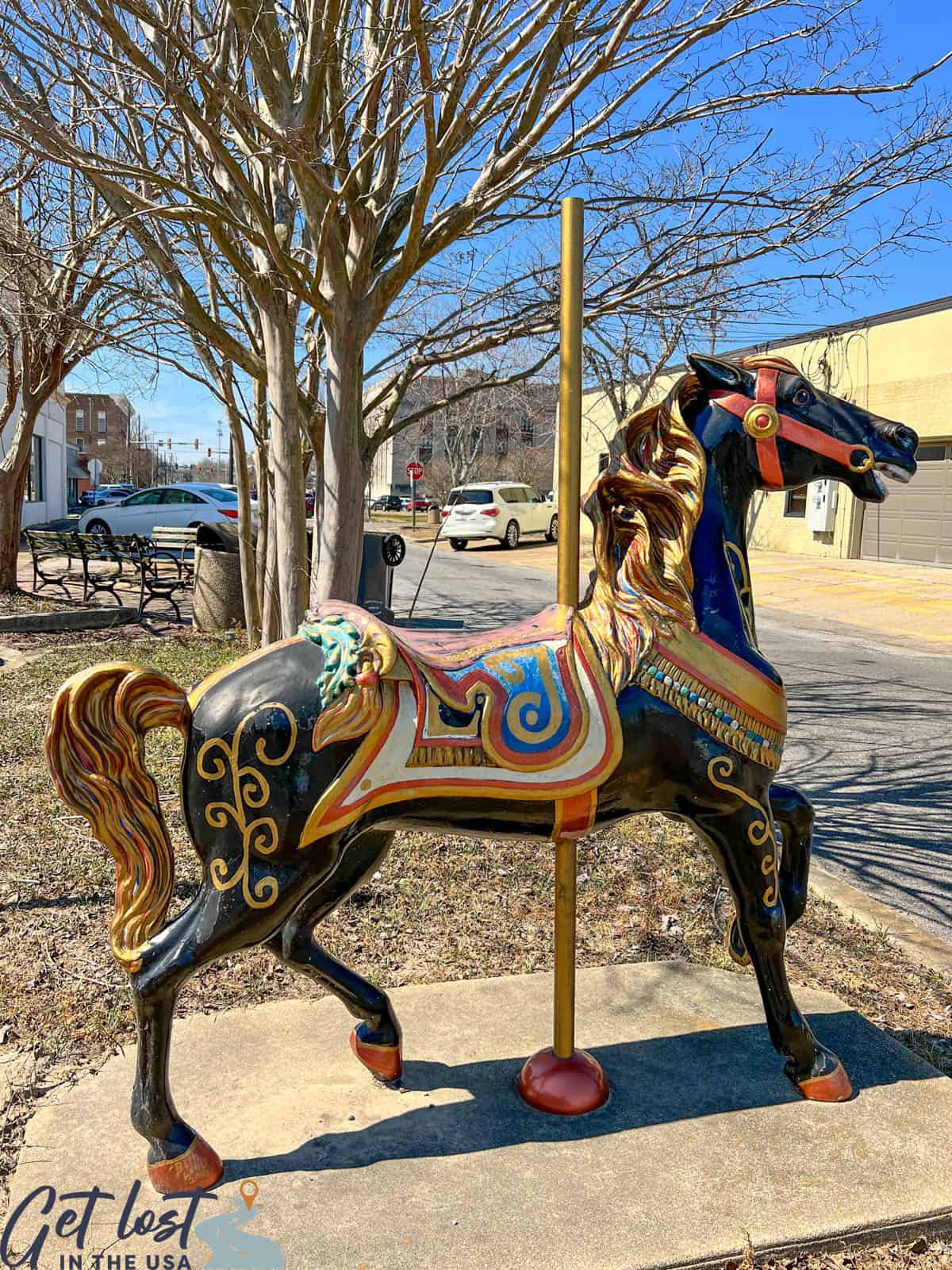 If you love public art, you'll have a great time "horse hopping" your way through the public art exhibit: Around Town Carousels Abound. The intricately painted carousel horses parade throughout Meridian. There are 13 in the downtown Meridian area and dozens more sprinkled throughout the city. (Get a map at www.visitmeridian.com)
And hunting for murals can be its own adventure too. My favorite was the David Ruffin and The Temptations mural.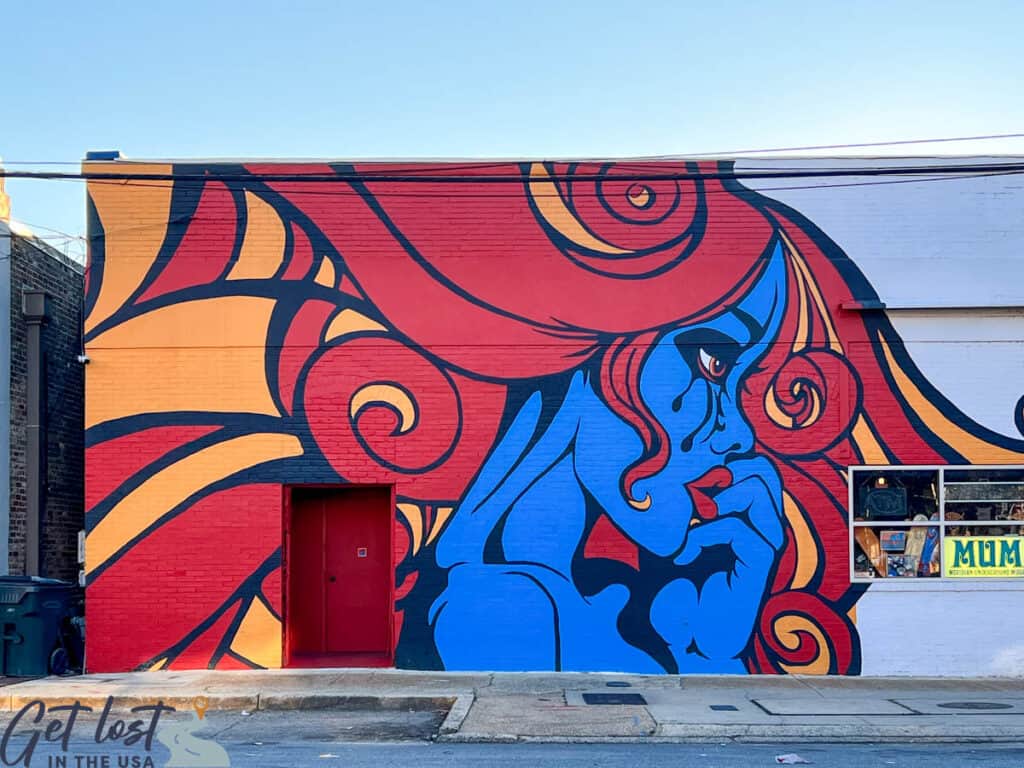 Step into the Steam-Powered Past
Don't overlook this unique experience with steam engines! The Mississippi Industrial Heritage Museum houses the historic Soulé Steam Feed Works factory in a time capsule with 80% of the original equipment remaining. It's the last intact steam engine manufacturing facility in the United States.
The Soulé company was founded in 1892 and primarily served the lumber industry, as steam was the only dependable power source in the early 1900s.
Allow about an hour for self-guided tours at the Mississippi Industrial Heritage Center.
Trace the Footsteps of History on Meridian's Historic Trails
Civil Rights Trail – This 2-hour self-guided tour takes you back to Mississippi's painful past and its fight for change. There are 18 markers, each with a QR code leading to a short video. One of the most momentous trail stops is the Federal Courthouse, where two of the most significant legal actions in Civil Rights history took place: the filing of James Meredith's lawsuit to integrate the University of Mississippi in 1961 and the infamous "Mississippi Burning" case that inspired the award-winning movie.
Civil War Trail – Ten trail markers tell the story of how Meridian lost everything when Union forces led by General William T. Sherman arrived on February 14, 1864, intending to destroy the railroad town. I'm not much of a Civil War buff, but hearing about Sherman's "Bow Ties" was really interesting (trail marker #2).
Country Music Trail – There are three Country Music Trail Markers in Meridian: Jimmie Rodgers (at his gravesite), Elsie Williams, and Country Music Comes of Age.
Mississippi Blues Trail – Look for the Jimmie Rodgers Blues Trails Marker in Singing Brakeman Park adjacent to Union Station. There are also three other markers in Meridian.
Trek Through Time on a Historic Neighborhood Walking Tour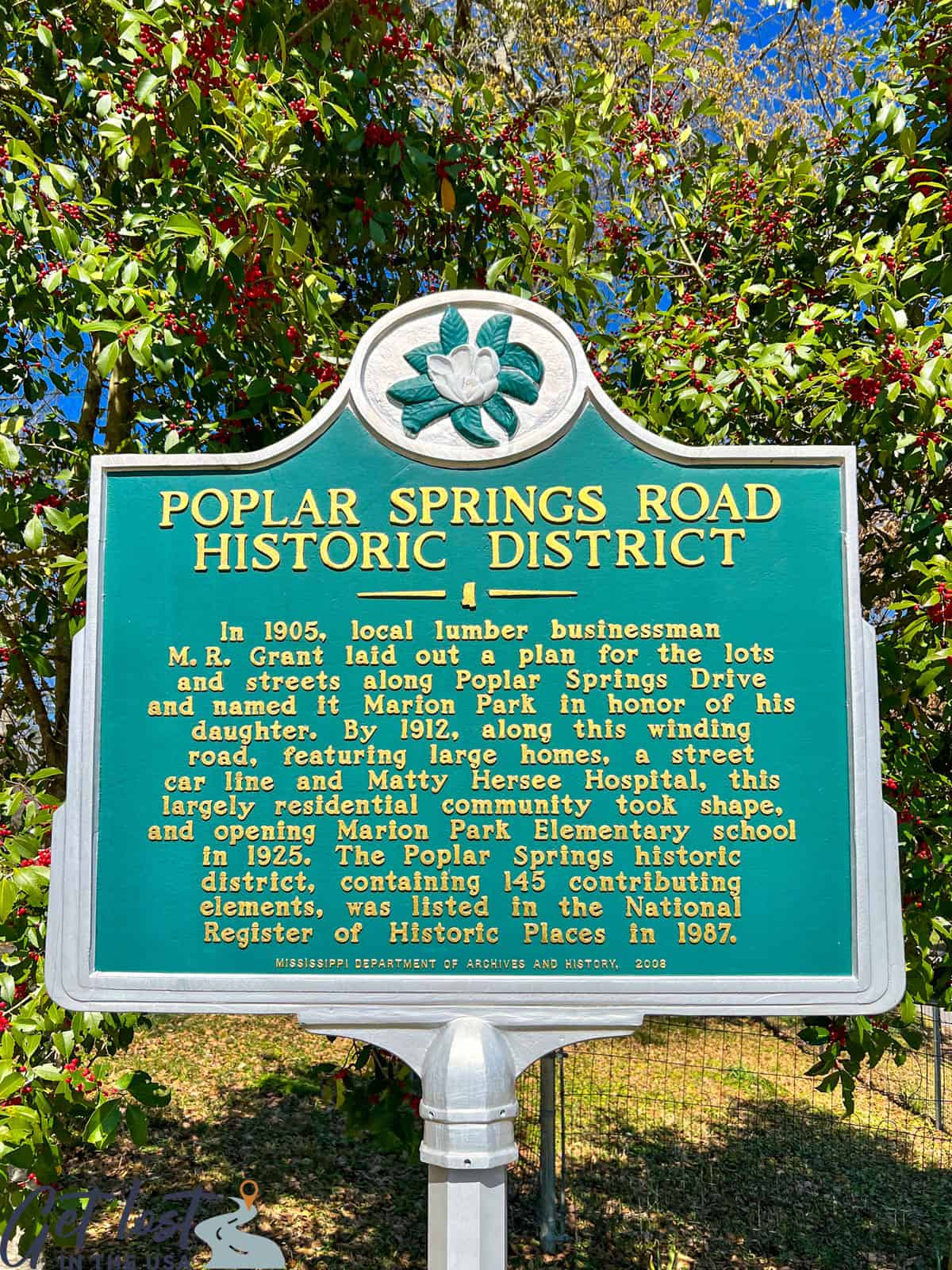 Start at the Point (where this historic sign is located) and walk the 1-mile loop (or take a windshield tour) through the Poplar Springs Drive Historic District. Signs along the way highlight homes with architectural and/or historical significance.
Check Out a Red Hot Blast From the Past
Roadside attraction fans, you'll want to pull over for this "Red Hot" relic. It used to be part of the 1955 Red Hot Truck Stop, where three huge neon signs—"Red Hot," "Good Food," and "Truck Stop"— beckoned travelers in for a rest and a good meal.
Looking closely at the scaffolding, you'll see part of the truck stop's old brick wall. It's a quirky bit of nostalgia.
Rediscover the Magic of a General Store
You'll be transported back in time when you step inside the Simmons-Wright Company Store. Listed on the National Register of Historic Places, this old-timey mercantile, established in 1884, is packed from top to bottom with antiques, knick-knacks, doodads, and Mississippi-made souvenirs and snacks.
Some of the items are marked as display only, so it's a bit of a museum and a store. Shelves are lined with old tools, vintage bottles, medicinal "remedies," and memorabilia.
You'll definitely want your wallet as there are two floors of merchandise to explore. You never know what you'll find if you poke into the nooks and crannies of this historic general store.
Read more: Nostalgia Awaits in Natchitoches' Old General Store.
Discover the Beauty and Serenity of Bonita Lakes Park
Go for an early morning or late afternoon walk around Bonita Lakes Park. With 3,300 acres and three lakes, there are miles of trails (equestrian, biking, and hiking trails) to explore. The main Bonita Lakes Trail is a 7-mile loop trail.
Dogs (on leashes) are welcome at the park, and it's also a wonderful place to kayak.
Chase a Waterfall
Dunn's Falls is a 65-foot waterfall created in the mid-1950s when John Dunn diverted the Chunky River to power a cotton and grist mill. The mill was later confiscated by Confederate soldiers to make supplies.
Though authentic but not original, a mill is still standing and can be explored by visitors. There are also steps leading from ground level down to the water's edge, where you can view the falls from below .
Fun fact: Local legend states that John B. Stetson developed his famous hat in the mill at Dunn's Falls, but there may or may not be any truth to that.
Revisit the Golden Age
If you love art deco, stay at the Threefoot Hotel! The building is a historic reconstruction of the 1929 Threefoot Building, and it's stunning, inside and out. It's also within walking distance of so many of the things to do in Meridian on our list.
Whether you choose to stay there or not (I highly recommend it based on my own experience), you'll want to stop and admire the mosaic work on the exterior and see the original fixtures inside. Then head up to the Box Car rooftop bar for a cocktail under the stars.
Bring the Kids!
Unlock A World of Wonder
Hands-on fun is everywhere at the Mississippi Children's Museum – Meridian! The please-touch exhibits focus on literacy, STEAM, and health and nutrition, with a side of Mississippi, and kids will have a blast learning as they play.
Launch into Fun
Love amusement parks? All in 1 Adventures offers 93,000 square feet of fun! With a giant trampoline park, laser tag, ninja courses, climbing walls, and more, it's the best place to spend quality time as a family with unparalleled experiences.
Do you know of any other fun things to do in Meridian, MS? Check out www.visitmeridian.com for more info on the area.
Explore More Southern U.S. Travel