There are so many fun things to do in Beaufort, NC, one of the many picturesque waterfront towns along North Carolina's Crystal Coast. Whether you want to see wild horses, go kayaking on the crystal-clear waters, or soak up the maritime history, small-town charm, and southern hospitality, Beaufort is the place for you.
In this article, we'll take a closer look at the top things to do in Beaufort, NC, and show you why the Southern Outer Banks are the perfect destination for your next getaway. So let's explore Beaufort—"America's Coolest Small Town"— and the Crystal Coast!
Getting to Beaufort + Fun Facts and Festivals
Beaufort is located on the east coast of North Carolina. The closest airports are New Bern (EWN – 41 miles), Jacksonville (JAX – 50 miles), Wilmington (ILM – 118 miles) and Raleigh (RDU – 166 miles).
Though spelled like Beaufort, SC, it's not pronounced the same. North Carolina pronounces it "bow-fert," and South Carolina pronounces it "b-yew-furd." Ironically, the two towns were named after the same man.
Beaufort is the third oldest city in North Carolina; it was established in 1709. Bath is North Carolina's oldest town, and Edenton is the second oldest.
Beaufort Music Festival (May) – This two-day festival features live music with amazing bands, food trucks, vendors, and plenty of things to keep the kids busy.
Beaufort Pirate Invasion (September) – Be on hand when the pirates attack and invade the Beaufort area! Reenactments and lots of special activities are happening all weekend long.
Crystal Coast Christmas Boat Parade (December) – Boats of all shapes and sizes decorated with colored lights sail from the Morehead City waterfront to the Beaufort waterfront. It's one of my favorite North Carolina holiday traditions!
Best Things to Do in Beaufort NC
Start at the Beaufort Historic Site Visitor Center
130 Turner Street
Pop into the visitor center's museum and welcome center to learn about Beaufort's local history and attractions.
History buffs can sign up for a guided tour of the restored historic buildings on site (courthouse, apothecary, doctor's office, and more), the Old Burying Grounds, or take a 45-minute historic district tour on a 1967 English double-decker bus. The narrated bus tour is a terrific way to get the lay of the land, find out fun facts, see historic sites, and get suggestions on where to eat.
Kayak to the Rachel Carson Preserve
Kayaking is one of the most memorable things to do in Beaufort, NC, and if you don't have one, you can rent kayaks and stand-up paddleboards from Beaufort Paddle. Better yet, take a guided tour and let the experts take you out for a unique experience you'll never forget.
Expert Tip: Wear water shoes to help prevent slipping and to protect you from the rough oyster beds along the shoreline.
Guided or not, you'll put in at the marina and then can paddle across Taylor's Creek (hopefully past dolphins!) over to the Rachel Carson Estuarine Reserve, where you may spot a herd of feral horses grazing in the salt marshes.
You'll also get a fabulous view of downtown Beaufort from the water. Other possible exploration points for kayaking are Carrot Island, Bird Shoals, and Shackleford Banks.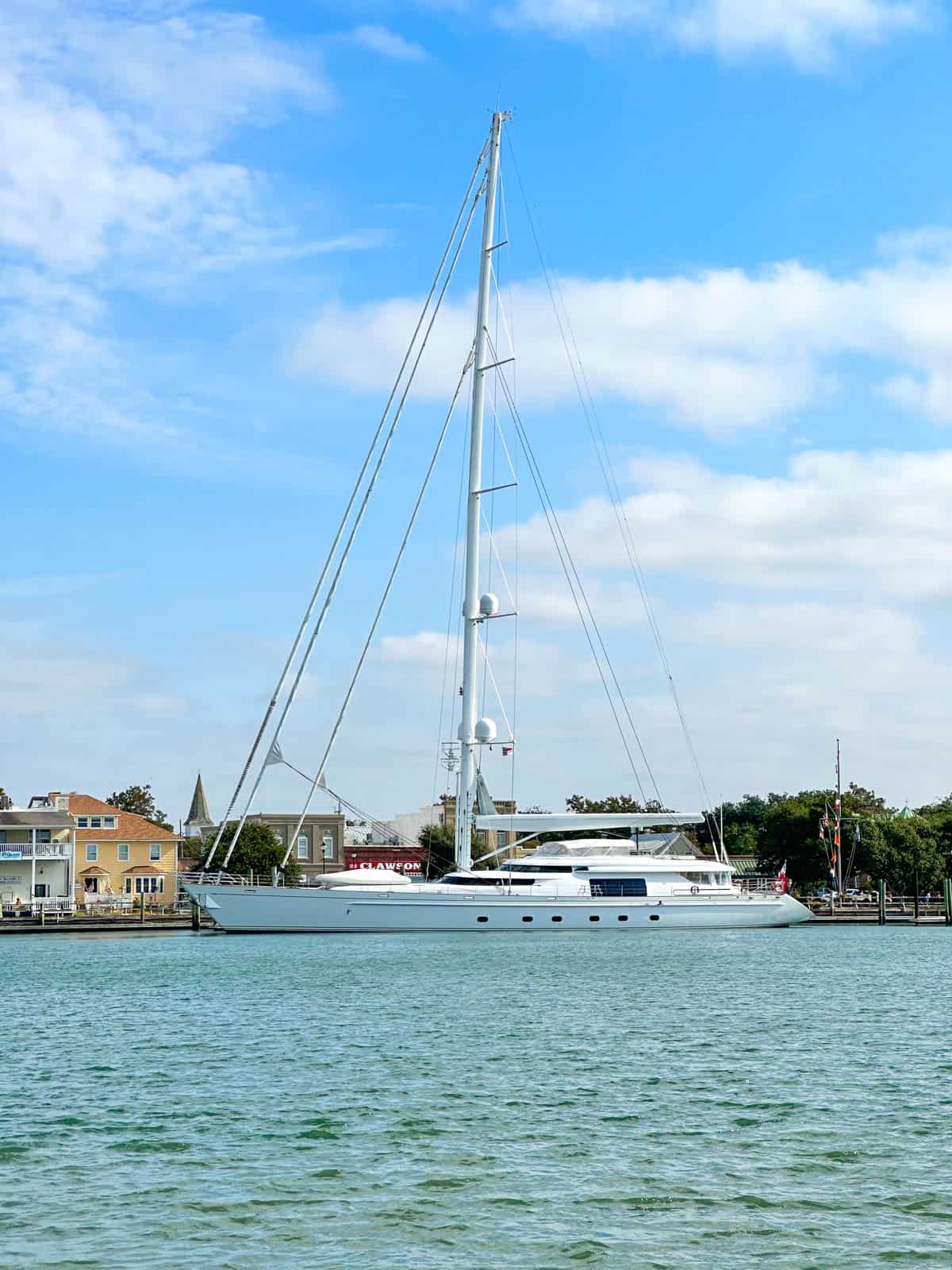 Visit the Old Burying Ground
411 Ann St.
Beaufort Historic Site Old Burying Ground is a must-see. It's the town's oldest cemetery and is a fascinating place to visit, whether you take a guided tour or explore it yourself. Self-guided walking tour maps are available inside the gates of the Old Burying Grounds or at the Beaufort Historic Site visitor center. There's also a smartphone audio tour app you can download with photos of the tombstones and narrated bites of history.
Don't miss the final resting place of the Rum Barrel Girl. You can't miss it because it's decorated with trinkets and gifts. According to lore, an English family with a baby girl came to Beaufort in the early 1700s. The girl desperately wanted to visit England and when her father promised to return her safely, the mother finally relented and allowed her to go. Sadly, she died on the way home. Burial at sea was customary, but the father didn't want to break his promise so he bought a barrel of rum from the ship's captain, put her body in it, and brought it back to Beaufort for burial.
Take a Historic Beaufort Walking Tour
Take a guided walking tour with Hungry Town Tours, or take off on your own to explore the town's history with this walking tour map from the Beaufort Historical Association. Be sure to stop and see the Hammock House (aka Blackbeard's House)—the oldest house in Beaufort. It's a private residence, so be respectful, but legend has it that Blackbeard lived here when it was an inn, so it's fun to see.
Even if you don't follow the walking tour completely, I highly recommend strolling through the neighborhood. There are some really interesting historic homes and churches.
It was through wandering that I spotted what used to be an outdoor kitchen! You don't see them too often anymore.
I also happened upon this vibrant mural on Middle Street.
Stroll, Shop & Eat on Front Street
Front Street runs along the scenic waterfront and is the heart of Beaufort. Wander along the boardwalk to enjoy the picturesque views and admire the beautiful boats. I recommend stopping into Beaufort Creamery for some ice cream to take with you.
If you're lucky, you'll see the wild horses on the island across the inlet!
Pop into one of the many gift shops and boutiques for island apparel, t-shirts, fudge, and candy or that perfect gift.
Hungry? There are some great restaurants in Beaufort, and it can be really hard to choose. Good thing there are three meals a day!
For pre-dinner (or post-dinner) cocktails, try the best "Painkiller" cocktail around at Front Street Grill or sip under the skies at Moonrakers' rooftop bar.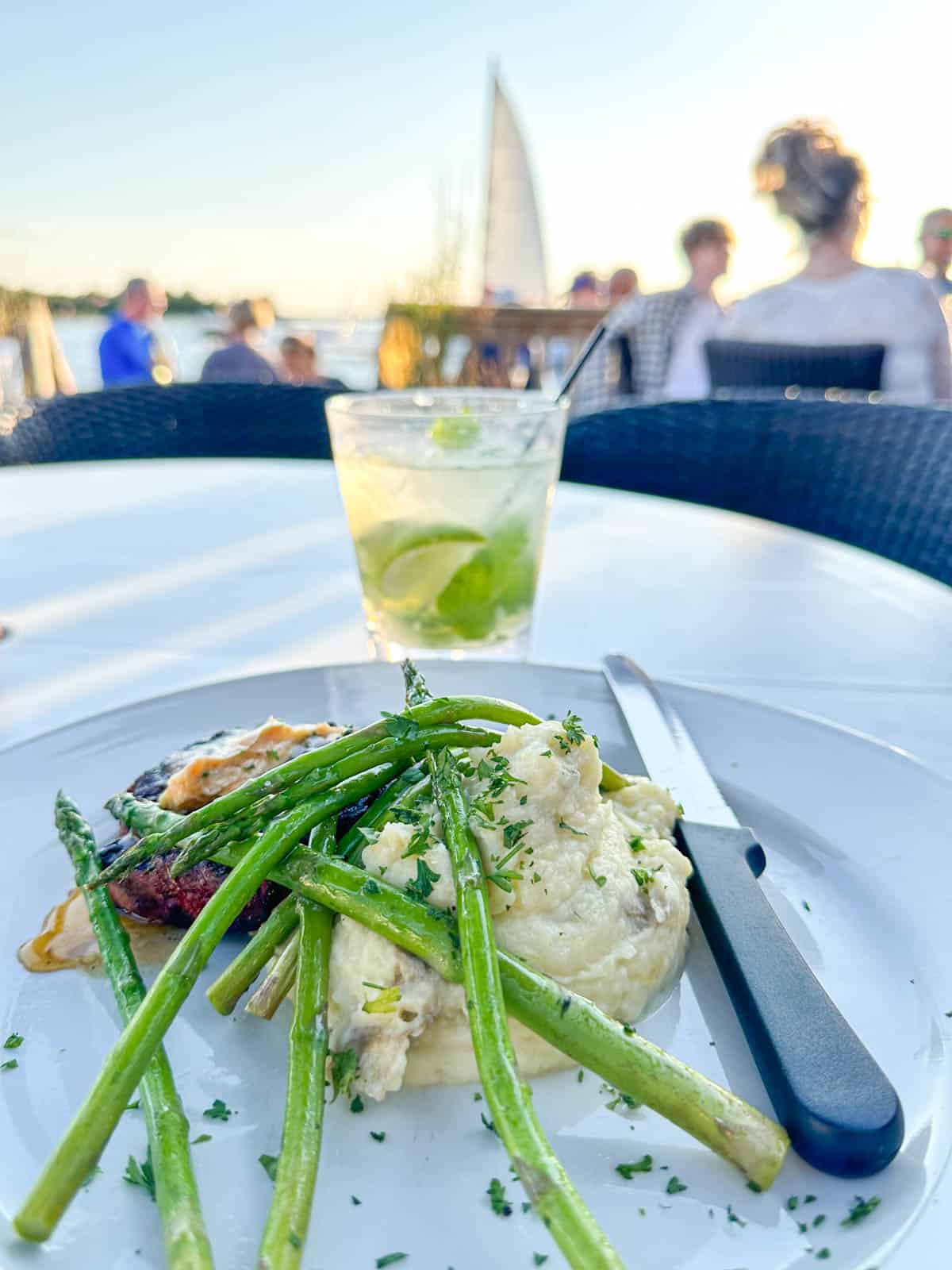 If you love wood-fired pizza, you won't go wrong with the delicious and creative pies at Black Sheep.
Beaufort Grocery – This darling French country bistro is a local favorite and always packed, so reservations are highly recommended. I went for Sunday brunch, and it was phenomenal.
Of course, fresh local seafood is just about everywhere, so you can indulge yourself in coastal cuisine to your heart's content as well.
Olde Beaufort Farmers Market
Every Saturday morning (April through November) on the Beaufort Courthouse Square, this wonderful small town Farmers Market comes alive. Pick up fresh-from-the-field produce to liven up your recipes and find handmade treasures from local artists.
Take an Excursion to Cape Lookout National Seashore
Take a ferry ride from Beaufort or Harkers Island out to the barrier islands of Cape Lookout National Seashore—a great place for a day trip (or half-day trip) for the whole family. You can see the Cape Lookout Lighthouse—climbing is currently closed for renovations—the Keeper's Quarter's Museum, go shelling, search for wildlife, or relax in the sun on the beach.
You can also stop at Shackleford Banks on the way to or from Cape Lookout. There are dozens of Banker horses on the island; sometimes, they're easy to spot, and sometimes, they can be elusive, but it sure is fun when you see them.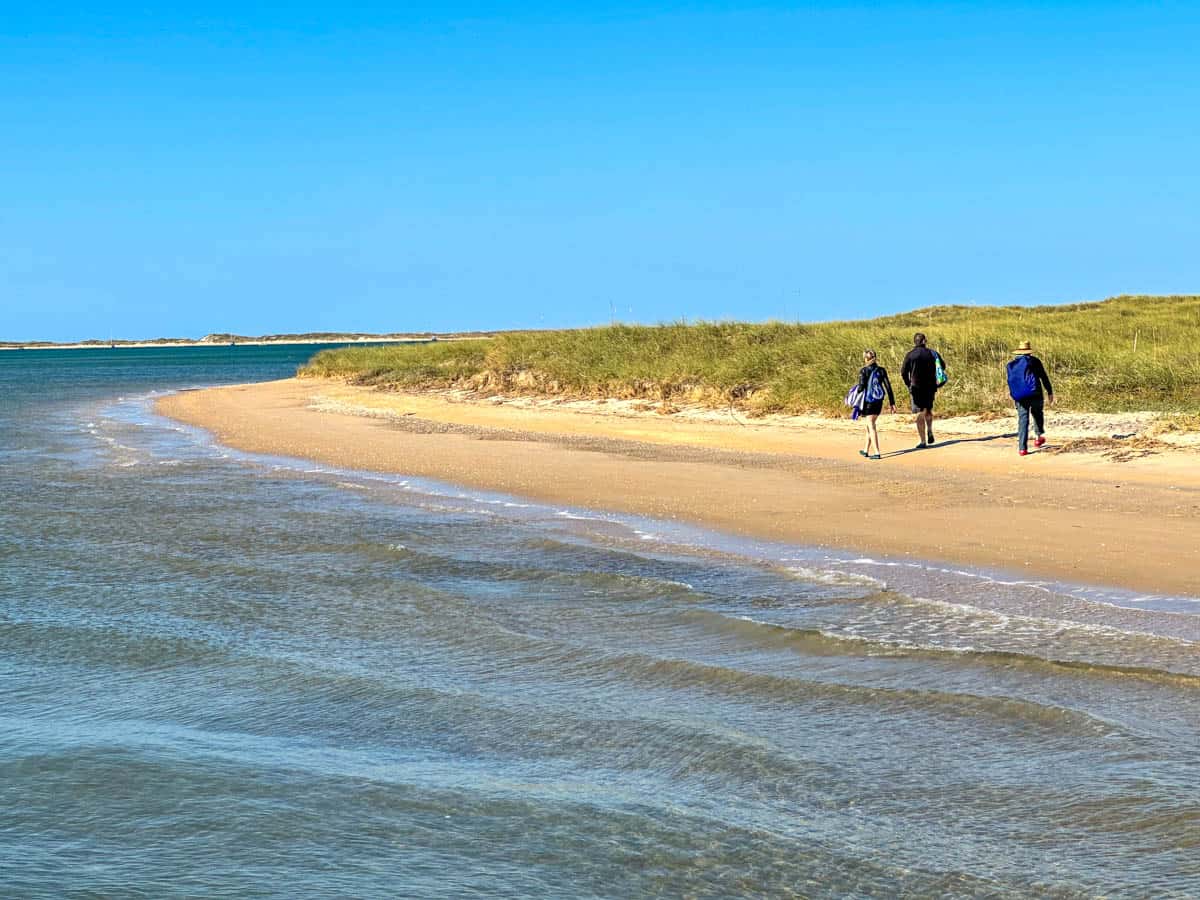 At either location, you'll need to bring your own snacks and drinks and something to carry your trash back out with you.
More NC Lighthouses: Bodie Island Lighthouse – Cape Hatteras National Seashore | Climbing the Oak Island Lighthouse
If you catch the ferry to/from Harkers Island and are interested in the area's coastal roots, fishing, or decoy carving, stop by the Core Sound Waterfowl Museum & Heritage Center before or after your Cape Lookout adventure.
Uncover the Secrets of the High Seas
315 Front Street
The wreckage of the Queen Anne's Revenge, Blackbeard's legendary pirate ship, was discovered in 1996 off the coast of Beaufort, and the North Carolina Maritime Museum is home to its recovered artifacts. If you love hearing about the Golden Age of Piracy, you'll find this extensive exhibit well worth seeing.
The NC Maritime Museum also has interpretive exhibits on coastal life, lighthouses, lifesaving stations, the seafood industry, and boats. It's one of the best free things to do in Beaufort, NC!
See Boatbuilding in Action
326 Front Street
Just across the street from the NC Maritime Museum is the Harvey W. Smith Watercraft Center where the art of traditional North Carolina wooden boatbuilding is showcased.
From the viewing platform above the workspace, visitors can watch lifesize and model boats take shape from start to finish. The center also offers boatbuilding classes.
Take a Haunted Excursion
108 Middle Lane
The Beaufort ghost walk through Port City Tour Company is fantastic fun. Beaufort has a rich pirate and shipwreck history, and the tales (though they may or may not be tall) are incredibly entertaining (and family-friendly).
The 1 hour and 15-minute guided walking tour is led by a costumed interpreter sharing stories of betrayal, treachery, and tragedy from the Golden Age of Piracy, Colonial and Civil War eras, and the early 1900s. I especially love the Old Burying Ground stories and seeing the cemetery in the dark.
More NC Ghost Tours: Take a Goldsboro Ghost Tour (Eerie Secrets and Terrifying Tales)
Go Shipwreck Diving
Learn to SCUBA dive, or if you're already certified, let the experts at Discovery Diving set you up for an amazing warm water, wreck diving experience in the "Graveyard of the Atlantic." This has to be one of the coolest things to do in Beaufort, NC, ever!
Throw In a Line
There's a reason Beaufort was once called "Fishtown;" the area offers prime fishing opportunities (and fresh catch eats). Whether you choose to cast off from a downtown dock, join a fishing tour, or take a privately chartered excursion for some offshore angling, there's plenty of sport fishing adventures waiting for you along the Crystal Coast.
Embark on a Coastal Conquest
2303 E. Fort Macon Rd., Atlantic Beach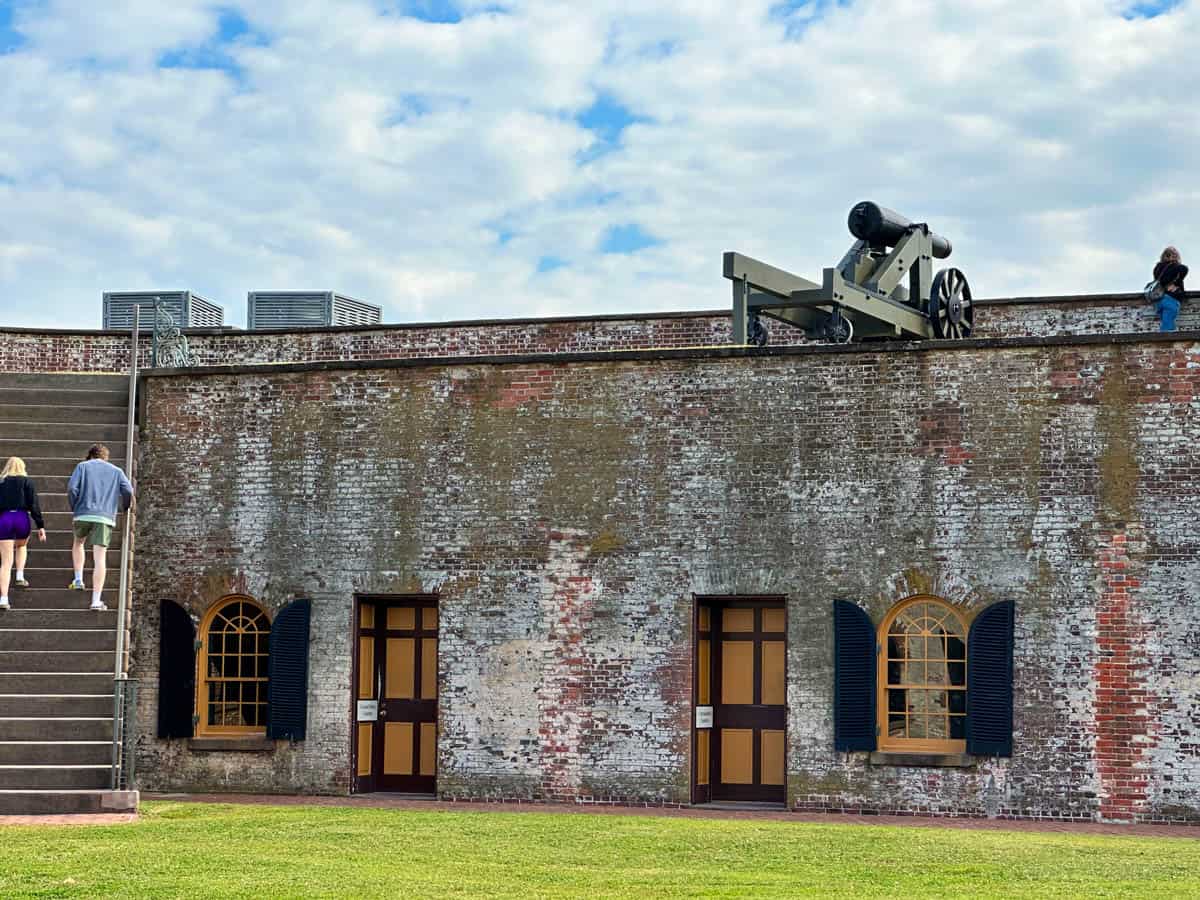 A visit to Fort Macon State Park promises an unforgettable experience for history buffs and beach lovers alike. Visitors can investigate the Civil War-era fort from top to bottom and go inside the casemates, some of which have interactive exhibits inside.
Guided tours are available daily—they're excellent!—and small arms demonstrations and cannon firings take place on specific dates.
Along with the fully restored fort, visitors can enjoy the sunny beaches and panoramic views of Bogue Sound, Beaufort Inlet, and the Atlantic Ocean, which surround the fort.
Tip: Keep a watch out for dolphins; we've spotted them several times!
Many people enjoy fishing off the shallow water shores and seem to have great luck. Sadly, we've only caught sand sharks (which we return to the water) so far.
With the combination of history and natural beauty, Fort Macon State Park is a perfect place to take a day trip.
Journey Beneath the Waves
Reserve half a day to explore the underwater wonderland at the NC Aquarium at Pine Knoll Shores. The aquarium showcases the region's marine life through exciting exhibits and interactive touch-and-learn experiences.
Highlights include 'The Living Shipwreck' exhibit, which brings visitors through a sunken ship replica to see the aquatic life that inhabits it. Another fun stop is the 'Secret World of Otters,' where two playful otters put on quite the show.
The aquarium also works towards the rehabilitation and release of injured or stranded marine animals, with a focus on sea turtles, and they are currently caring for these majestic bald eagles.
Bask in the Evening Sunset Glow
Stroll along the boardwalk as the sun sets or enjoy a late dinner or cocktail at one of the many restaurants with a view. Beaufort sunsets are a sight to behold. For a magnificent sunset over the dunes (instead of the water), take a ride out to the Point in Emerald Isle.
Where to Stay
Other Things to Do Near Beaufort, North Carolina (Nearby Cities)
History Museum of Carteret County (Morehead City)
Theodore Roosevelt Natural Area (Pine Knoll Shores) Take the self-guided 1.2-mile nature trail through maritime forest and marsh habitats. Look for the entrance sign on your way to the NC Aquarium at Pine Knoll Shores.
Cedar Island National Wildlife Refuge (Cedar Island)
Croatan National Forest (New Bern)
Explore More