Looking for fun things to do in Shelby, NC? We love this charming town in western North Carolina and are excited to share what makes it the perfect place to visit. Stroll the quaint tree-lined streets of uptown Shelby as you explore its music legends, public art, rich history, shops, and eateries.
If you love small towns, you'll love this hidden gem in North Carolina. So, read on to find the best things to do in Shelby, NC, most of which are within walking distance of each other!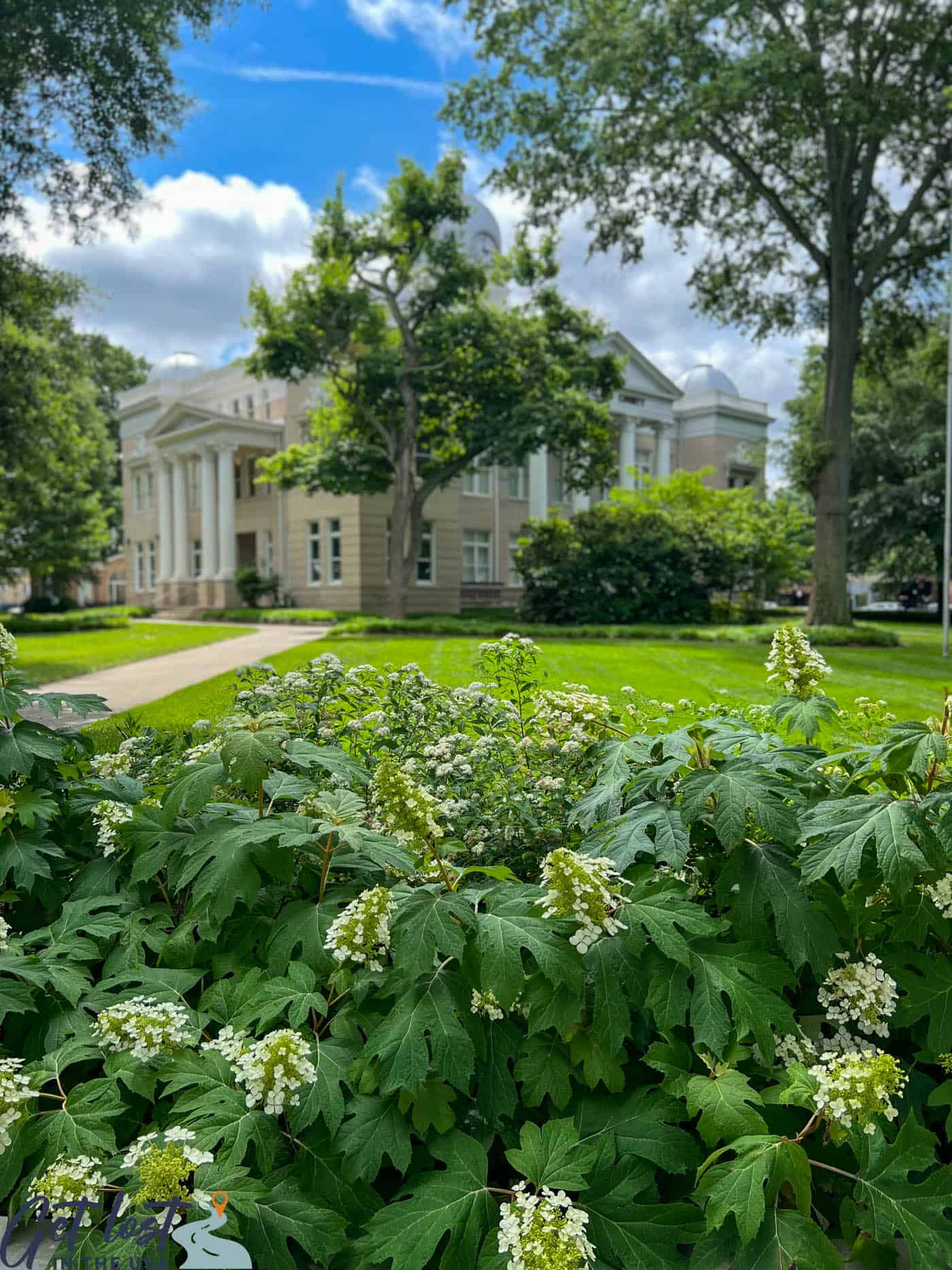 Where is Shelby, NC? Shelby is located 1¼ hours from Mooresville and Asheville and about an hour from Charlotte and Rock Hill, SC.
Nearby: Foodie Faves in Mooresville NC – Restaurants You'll Love In and Around Race City USA
Things to Do in Shelby, NC Uptown!
Most of the following ideas for things to do in Shelby, NC, are in the historic uptown square. I only hopped in my car once or twice during my entire visit. I was hosted by Cleveland County Tourism (landofrhythm.com)
Tour the Earl Scruggs Center
If you know bluegrass, you know Earl Scruggs, whose influence on the music is undeniable. His fast fingers and intricate Scruggs style of banjo playing—three-finger picking—gave rise to a whole new sound that took the world by storm.
At the Earl Scruggs Cultural Center, visitors can take a selfie with his lifesize statue, see the banjo he learned to play on, and learn more about his early life, his picking style, and his influential music career through interactive exhibits.
Catch a Show at the Don Gibson Theatre
The theatre is named after Shelby-born country music singer/songwriter Don Gibson. With over 80 charted songs, including "Oh, Lonesome Me" and "I Can't Stop Loving You," Don's guitar playing, smooth, crooning voice, and emotional lyrics helped shape modern country music.
The Don Gibson Theatre hosts music concerts, comedy shows, theater productions, and special events in an intimate 400-seat venue with a state-of-the-art sound system. The building's art deco design and a fabulous collection of Don Gibson memorabilia in the lobby add to the experience.
Directions to Don Gibson's Burial Site
Turn right onto Martin Street from West Sumter Street
Continue through the gates of Sunset Cemetery
Turn left on Memorial Avenue
Turn left on Woodlawn
Immediately turn right onto Maple (the sign says this, but it really is Thompson Street, as the GPS shows)
Continue downhill on Thompson (graves will be on the left)
Turn right on Dogwood
Turn left on Cedar Drive
The grave is on the right (get out of the car to view both sides).
Get Artsy
Located in Shelby's original post office building, the Cleveland County Arts Council art gallery hosts art exhibits, art classes, performances, and more. Pop in to see the latest art exhibition, then stop by the gift shop for the perfect handcrafted souvenir.
Ride a Historic Wooden Carrousel
The 1919 wooden Herschell Spillman Carrousel has been delighting riders in Shelby since the 50s. There are twenty-nine original horses and three hand-carved replacements. Housed in Shelby City Park's Anne Dover Bailey Carrousel Pavilion, carrousel riders can saddle up for 50 cents and enjoy old-time organ tunes as they circle the scenic hand-painted panels.
In addition to the carrousel, the park is home to a miniature rotary train (50 cents per ride), playground, ball fields, horseshoe pit, picnic shelter, and picnic benches. It's also where the Foothills Merry-Go-Round Festival happens each April with carnival games, live entertainment, music, and more.
Note: The carrousel is open year-round, and the train runs during the summer months.
Meander By the Murals
One of my favorite things to do in Shelby, NC (and anywhere else, tbh) is to wander around looking for murals and public art, and Shelby's public art scene is alive!
Make sure to check out the Earl Scruggs mural (on the side of Newgrass Brewing—enjoy a craft beer on the patio by the mural) and the Don Gibson mural (on the side of Miss Molly's Boutique—the former home of Gibson's wife, Bobbi). Both of these extraordinary murals were created by Scott Nurkin as part of the NC Musician Murals Project, highlighting influential and groundbreaking musicians in North Carolina.
Get your cameras out! This winsome wall of wings tucked in a narrow alleyway on South Dale Street is the perfect place to capture the whole family in flight.
Also, in uptown, look for this mural showing a mother sharing knowledge with her child (on the wall of the Cleveland County Arts Council building) and the vibrant Bobby Bell mural.
Go For a Spin
Stroll through uptown Shelby, and you can't miss the dual-sided 3-foot fiberglass replicas of LP records featuring some of Don Gibson's most well-known tunes. Local artists created the Don Gibson LP Project sculptures. Scan the QR codes for audio samples!
Reflect on Civil Rights
The NC Civil Rights Trail marker outside Buffalo Creek Gallery (formerly Smith's Drug Store) highlights the bravery and sacrifices of the African-American high school students who staged sit-ins and protests against segregation in 1960. Buffalo Creek Gallery's lunch counter display pays tribute to these courageous young men and women.
Tour the Banker's House
This Second Empire-style mansion was built in 1875 by Jesse Jenkins, one of the state's early bankers. In fact, everyone who ever owned the house was in the banking business, thus giving it the nickname "the Banker's House."
Eventually, the home was deeded to Preservation NC, North Carolina's only nonprofit organization dedicated to historic preservation, and is listed on the National Register of Historic Places.
Visitors get a close-up look at the home's distinctive architectural features, including the tower and the decorative floral roof tiles. Be sure to stroll through the carriage house barn as well. Tours must be arranged in advance.
Take a Historic Walking Tour
There are 15 historic buildings on the official walking tour and if you love architecture, put it on your list of things to do in Shelby, NC. Many of the buildings you'll encounter simply from walking the square, but there are a few historic homes you may want to drive to.
A few highlights include:
Rogers Theatre – Built in 1936, it's the only art-deco building in uptown Shelby's historic district. The theater, which was segregated and had a working vaudeville stage, is currently shuttered, with redevelopment plans underway.
The Well House – Located on the east side of Court Square, the well house was originally built to pipe water in from nearby Lithia Springs. The water from the springs was thought to have health benefits, and some people still collect the spring water.
Webbley (home of O. Max Gardner, a key Shelby Dynasty player) – 403 S. Washington St.
Clyde R. Hoey House (Gardner's brother-in-law and also in Shelby Dynasty) – 602 W. Marion St.
El Nido (Spanish Mission-style bungalow, one of two thought to be remaining in the US) – 520 W. Warren St.
Fun Facts and History
Shelby, North Carolina, is the "Livermush Capital of the World."
Shelby was one of Cleveland County's early "round towns." The original town boundary formed a circle with a quarter-mile radius, beginning at the courthouse.
The city was named after Isaac Shelby, an American officer and Revolutionary War hero from the Battle of Kings Mountain in South Carolina, and its eight main streets are named after other Revolutionary War heroes. ( Read more about Kings Mountain National Military Park: 14 Fun Things to Do in Rock Hill, SC and York County)
Shelby was home to a powerful group of political leaders in the early 20th century known as the "Shelby Dynasty who controlled North Carolina's government for over 25 years." (Some of their homes are on Shelby's historic walking tour.)
Shop Local
Uptown Shelby is a shopper's paradise! With boutiques, galleries, antiques, and more, there's something for everyone on your list. Here are a few of our favorite spots:
Workshop Vintage Market – The largest craft and vintage market in Cleveland County also hosts DIY workshops
Buffalo Creek Gallery – Fine art and handcrafted gifts made by local artists.
Antique Market of Shelby – Four floors of antiques!
Victoria Stephen Specialty Gifts – Fashion, home decor and gifts.
A. Griffin Pottery – The studio features the work of several artists, and visitors are welcome to pop into the studio to see what they're working on and browse the gift shop area.
Dragonfly Wine Market – Curated wine, craft beer and cider. Also hosts a variety of live music events.
Stop by the Foothills Farmers Market at the Bobby Bell City Pavilion every Saturday for fresh-from-the-fields produce from local farmers, specialty foods, and handmade arts and crafts.
Roll Into The Drive-in
Currently shuttered (but everyone's hoping it sells and reopens), the Sunset Drive-in Theater is a nostalgia lover's dream Friday night. A snack bar serves old-school concessions.
Be a Culinary Daredevil
Shelby is known for a most unusual regional "delicacy"—livermush—and if you're up for a gastronomic leap of faith, I recommend you try it at least once.
What is livermush? Livermush is made from ground and seasoned pork liver, head parts, and cornmeal, baked in a loaf, sliced, and fried until crispy on the outside. I know, I know…but it's one of those North Carolina bucket list things…
Pro tip: Order it "split and dropped" so it's thinner and crispier, and try it with grape jelly or mustard.
You can try livermush at Shelby Cafe, Ken & Mary's, The Hub Cafe and Sushi Dojo (Hee Haw Roll). Elsewhere in Cleveland County, you'll find it at Christie's Kitchen and The Snack Shop.
Love livermush? You won't want to miss the Mush, Music, and Mutts Festival in October when Shelby's local staple takes center stage.
More Fun Beyond Uptown: Day Trip Ideas
Where to Stay: Two Unique Hotels in Shelby NC!
I stayed at both of the following hotels in Shelby NC's historic uptown area. You can't go wrong with either one, but I'll dive into details so you can decide which one is best for you.
Morgan and Wells Bed & Breakfast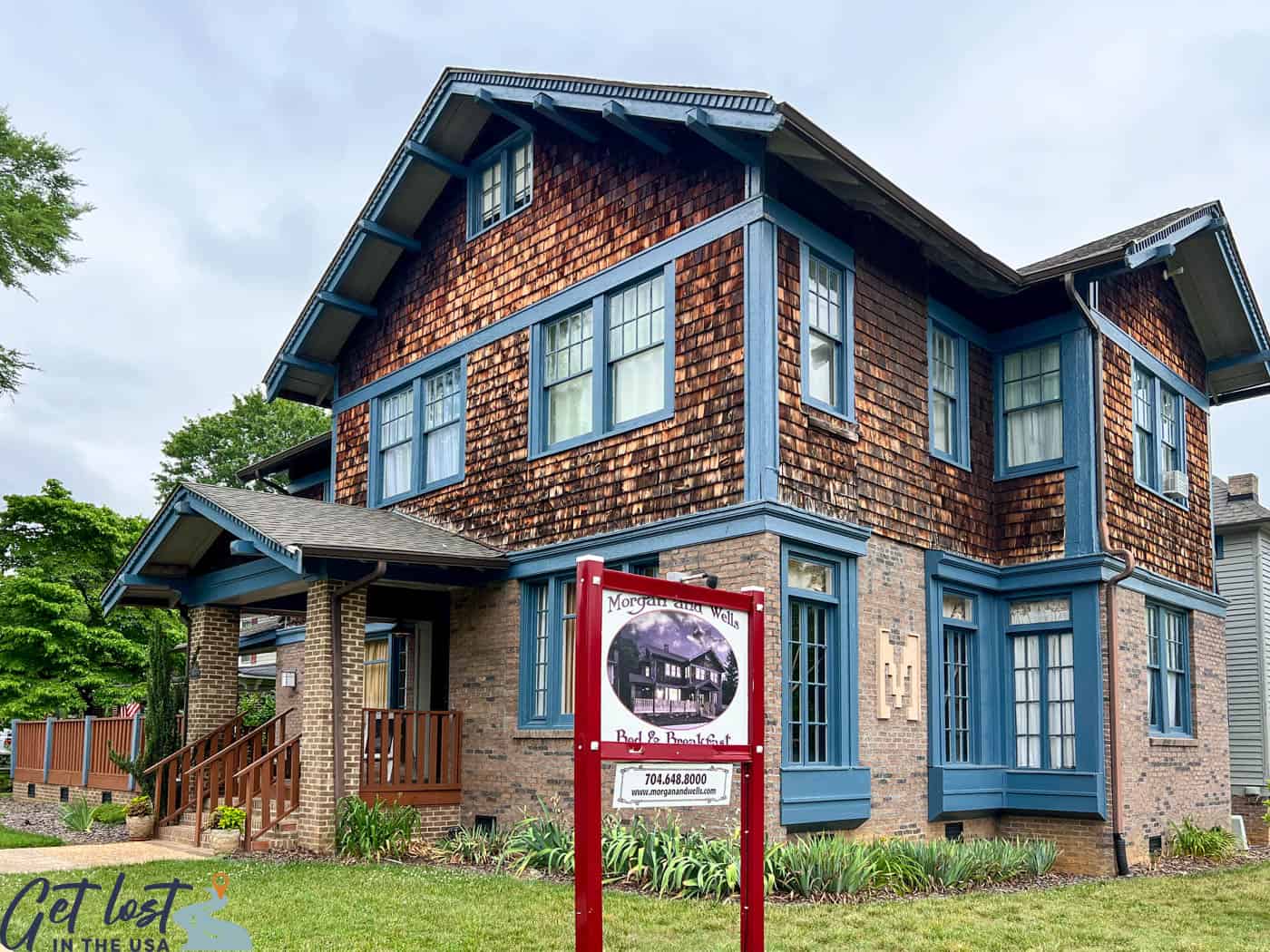 Morgan and Wells is in a lovely neighborhood just down the street from the Banker's House. There are five guest rooms and I stayed in the James Edward Room with a king bed, ensuite bath and private wraparound veranda.
Before crashing out on my memory foam mattress, I explored the rest of the house to discover its many quirks and charms. The spiral staircase is a wow! and I discovered a dumbwaiter on the second floor landing (main staircase).
Breakfast included a granola parfait, French toast, eggs, bacon, grits and fruit—a great way to start the day. Guests can enjoy their morning meals in the sunroom or the dining room.
Uptown Loft
This light and airy loft space is smack in the center of uptown Shelby (free street parking available) within walking distance of most of the above-mentioned attractions, so the convenience can't be beat. The studio apartment is beautifully decorated with a king bed, sofa bed, desk space, high-speed Wi-Fi, small kitchenette area and a private bathroom. Guests self check in with keypad code.
Note: The studio apartment is on the second floor and can only be accessed via stairs. It's a narrow space and there are a lot of steps, so keep that in mind before booking. I had a mammoth suitcase with me and it was not fun maneuvering it up those stairs, but it was worth it.
More Travel Ideas