Concord, North Carolina, in Cabarrus County, has a unique blend of history, motorsports excitement, and Southern charm. Many people are already familiar with the thundering engines at Charlotte Motor Speedway and the drive-through twinkling Speedway Christmas Lights. Still, when looking for things to do in Concord, NC, you won't want to miss the historic downtown district with its beautiful green spaces, vibrant public art, unique shops, and tasty eateries!
Keep reading to explore it all.
Read Next: How to Spend a Day in Downtown Kannapolis, NC (15 minutes from Concord)
Start at the Explore Cabarrus Visitor Center in Concord
The best place to start when visiting any town in Cabarrus County is the Visitor Center. You may or may not think you need additional guidance for your trip, but the Visitor Center is where you'll get the inside scoop on lesser-known finds and hidden gems – that's their focus. The office is staffed by volunteers who love their local community and are anxious to share their secrets! (Open Mon-Fri)
On weekends, keep an eye out for the mobile visitor center!
Address: 10099 Weddington Rd Suite 102, Concord, NC 28027
Hours: 8:30 AM – 5 PM (Monday-Friday)
Exploring the Best Things to Do in Concord NC (Downtown)
Note: Downtown Concord is currently in the midst of a revitalization project, so some parking is blocked off, and there are several construction zones. But businesses are still open! It's scheduled to be finished in 2024 and will be spectacular!
Marvel at the Avett Brothers Tribute Mural
The city's favorite hometown folk-rockers, The Avett Brothers, have a splashy new mural in downtown Concord, and it's a beauty! The Avett Brothers love to say they're from Concord, North Carolina when they perform, and this mural shows how much the city loves them back.
The mural is on a wall next to the public library, where you'll also find this sweet sculpture of kids reading books.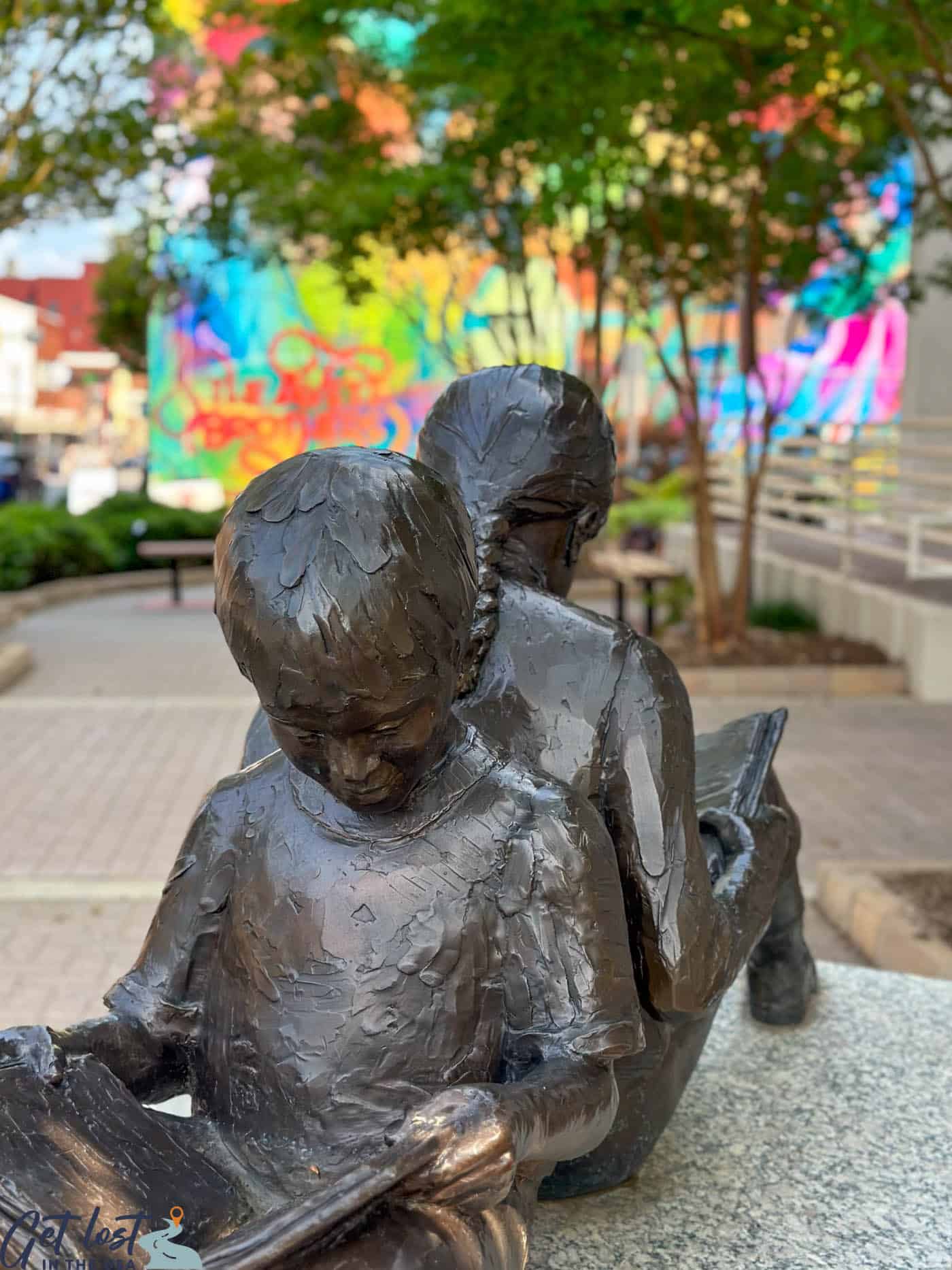 Along with the stunning Avett Brothers mural, Concord is home to more wonderful walls! Some of my favorites were a restored Coca-Cola mural, a historic Concord mural called "Off Main" and a funky "Gather Round" mural.
Go On a Bead Browsing Blitz
The Bead Lady
1 Union Street North
Whether you love making jewelry yourself or buying it pre-made, visiting The Bead Lady of Concord is a must. When it comes to beads, this store has it all—it's huge—it keeps going and going and going. And if they don't have what you're looking for (gasp!), they'll custom-design it for you.
They also create memory flower jewelry, pet memorial jewelry, and flower petal jewelry.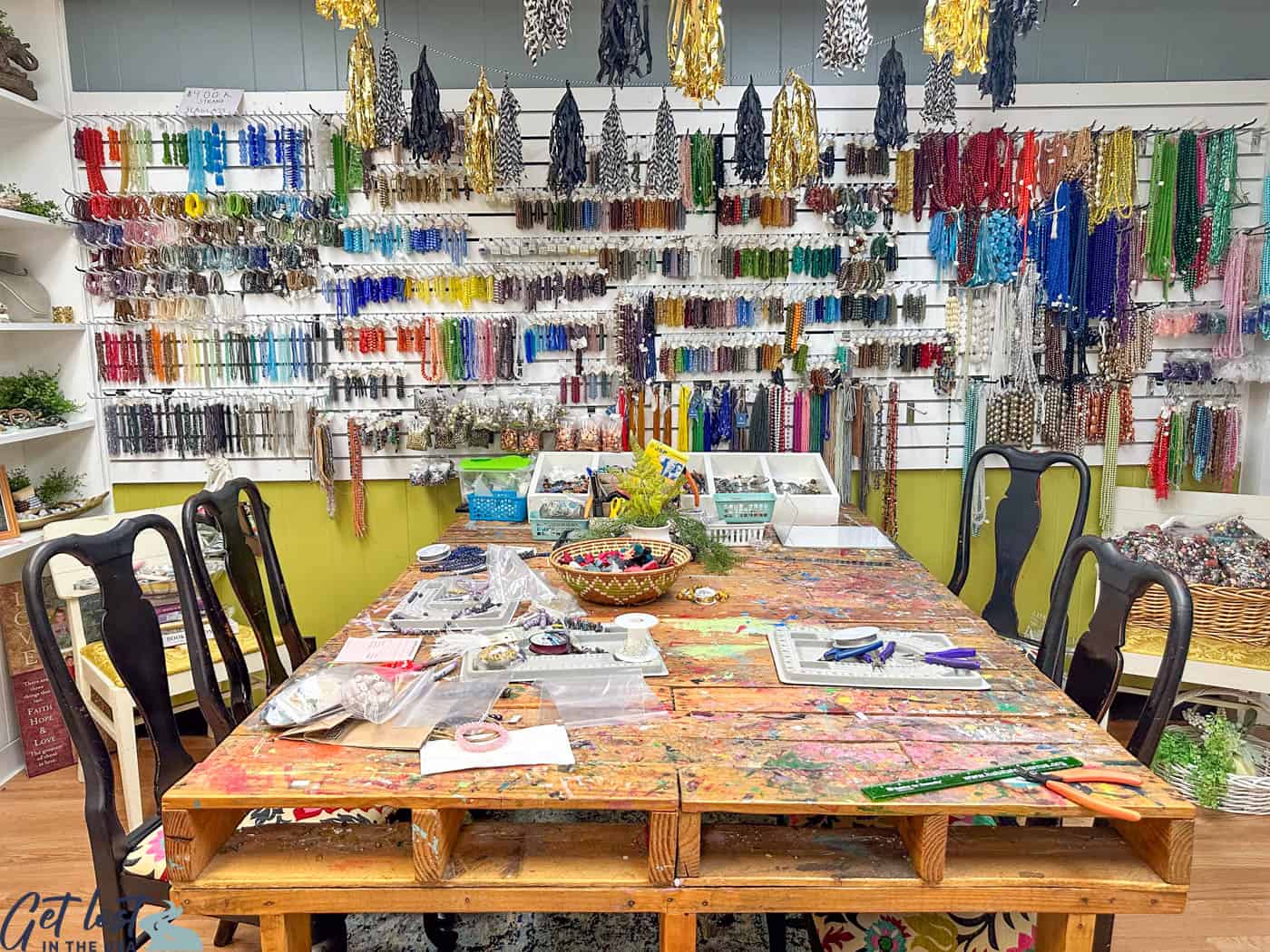 Stroll Through Memorial Garden
50 Spring Street
Hours: 9-5 Tue-Sat, 1-5 Sun, Closed Mondays
This tranquil garden surrounding a 200-year-old cemetery is beautifully landscaped with lush trees, bushes, and flower beds. Brick and stone pathways guide visitors past flowers in bloom, trickling fountains, and quiet nooks for reflection.
Although the gardens are located in bustling downtown Concord, you'd never know it. Once you walk through the gates, it feels like you're miles away from everything.
Explore the Historic Courthouse (Inside and Out)
65 Union Street South
This historic 1876 gem is adorned with stucco and combines elements of Greek Revival, Italianate, and Second Empire architectural styles. Even if you don't go inside, the stunning exterior begs to be photographed.
Indoors, you may peruse the Cabarrus Arts Council galleries and gift shop for those one-of-a-kind gifts. Explore local heritage exhibits in the Concord Museum or pick up a historic walking tour map of the downtown area.
The courthouse building is also home to the Davis Theatre's numerous live music and dance productions.
Have Lunch at 2 Gals Kitchen
80 Union Street South
This quaint lunch spot (kitty corner from the historic courthouse) is perfect for soups, salads, and sandwiches. I ordered the Sweet Spring Salad with scratch-made Raspberry Vinaigrette—delicious!
Go For an Ice Cream!
Cabarrus Creamery has been scooping up smiles since 1923. The nostalgic 50s-style ice cream parlor has classic flavors and fun favorites like Moon Pie, Sliced Lemon, and Banana Pudding. Come hungry—the servings are generous!
Take a Sculpture Stroll
If you love public art, especially funky sculptures, you'll love the fun collection of sculptures in Concord. Follow the guide at http://fulltimefunkytown.com/concord-sculpture-show. (Sorry, I'm not able to link to it directly!)
I think the sculptures move to different locations from time to time, so you never know what you'll see around town. I stumbled across a few that weren't even listed on the map, like this upcycled bird-man below.
Play with Kitties at Mac Tabby Cat Cafe
25 Market Street Southwest
Cat cuddle seshes are the ultimate feel-good activity! Plus, most, if not all, of the cats are adoptable; you never know… you may find your new best friend along the way.
In my experience, it's best to make an appointment in advance; the hourly cuddle sessions often sell out. You might luck out if you drop in last minute, but to avoid disappointment, I suggest reserving your spot ahead of time.
The staff will introduce the cats and are available to answer any questions while you visit, but mostly you're free to sit on the furniture or get down on the floor to pet and play with the furry babies. They're all so sweet and silly!
At Mac Tabby Cat Cafe, there's a coffee shop attached, and you're welcome to bring your purchased drinks into the cat room with you.
It's a dose of therapy to love on kitties! I LOVE cat cafes, so if there's one anywhere near me, I'm going, and I highly recommend visiting Mac Tabby Cat Cafe in Concord.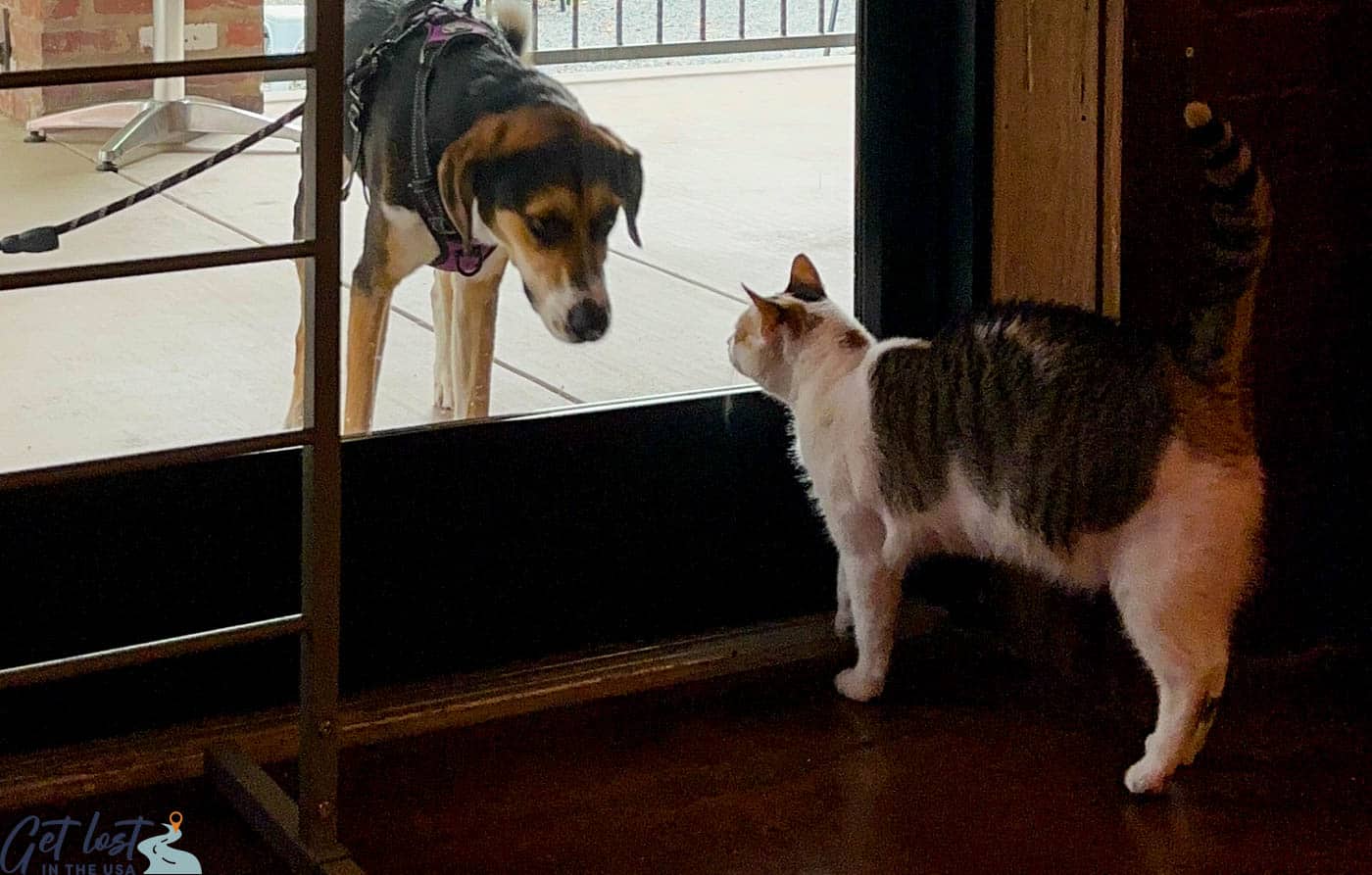 Pick Up a New Page-Turner at Goldberry Books
12 Union Street South
Pop into this bookworm's paradise for your next great read! I can't resist an indie bookstore, and this family-owned shop in downtown Concord stocks new and pre-owned books.
Get Your Chocolate Fix at Chocolatier Barrucand
1 Union Street South
This cozy gourmet chocolate shop is where you'll find an array of carefully crafted truffles, artisanal cocoa treats, and decadent desserts sure to satisfy any chocolate lover's cravings.
Play Some Retro Arcade Games
14 Union St. South
Pop into the Basement Arcade Bar to play pinball and your favorite vintage 80s and 90s video games. The best part? They're all on free play with a flat admission price! It's like stepping back in time, no quarters needed. Just good old-fashioned fun. The venue is family-friendly until 8 p.m. when it switches to a 21+ crowd and begins serving drinks.
Walk Through History
48 Union St. South
Peek into the past in this alleyway tribute to Concord's history. Eight window-shaped murals designed from vintage photographs feature important locations and events, each with a corresponding informational plaque.
Splash Pad & Farmers Market (Seasonal)
From May through September, local farmers, bakers, and artisans sell their goodies at the weekly Tuesday farmers market in Rotary Square. Pick fresh local produce while your little ones cool off in the adjacent splash pad!
Where to Stay
Explore Cabarrus has hosted me over several visits at the following hotels in Concord, NC—except for Great Wolf Lodge, where I ate rather than stayed.