One of the biggest surprises about visiting Norfolk, Virginia was the vibrant food scene. I spent a couple of days eating (and sightseeing) my way through the city to see if Norfolk's self-proclaimed tagline of "the city with bite" is deserved.
Spoiler alert: It is.
From iconic favorites to fun casual eateries to new chef-driven experiences, the Hampton Roads food and drink scene is exploding, and Norfolk is right in the center of it.
Norfolk Restaurants Worth a Bite
I'll preface this list by saying that, like most people, I'm on a budget, so most of the restaurants in Norfolk, VA I tried are affordable and casual breakfast, lunch, and dinner options. Since I wanted to try many eateries during my visit, I limited my high-ticket options as much as possible.
Starving Artist Cafe
4408 Colley Ave.
Norfolk, VA 23508
Facebook
Palette meets palate in this artsy breakfast and lunch cafe. Originally a frame shop and art gallery, this cozy eatery features live music and an ever-changing art collection for sale.
I couldn't resist trying the cafe's signature "Womlette," an omelet cooked in a waffle iron served with house-made hash browns and toast or a biscuit. The full breakfast had incredible fresh from-scratch flavor.
Grilled Cheese Bistro
345 Granby St
Norfolk, VA 23510
Website
Good Lord, folks. The Grilled Cheese Bistro is where I want to eat all of the remaining meals of my life.
This downtown Norfolk restaurant serves the textbook definition of the perfect grilled cheese sandwich. Thick, crunchy, buttery bread loaded with gooey, melted cheese, and wildly delectable fillings. It's a mouthful of life. And those fries… amen.
Put the Grilled Cheese Bistro at the top of your must-eat Norfolk restaurants list. It's THAT good. (And they have gluten-free and vegan options.)
Granby Waffle Shop
235 E Plume St
Norfolk, VA 23510
Website
It's all about waffles in this creative build-your-own waffle restaurant located inside Selden Market. So whether you're craving sweet or savory toppings, you'll find what you're looking for (and what you didn't know you were looking for).
There's no combination too crazy or too simple. The world is your waffle.
Freemason Abbey
209 W. Freemason St.
Norfolk, VA
Reservations: 757.622.3966
Website: freemasonabbey.com

This 149-year-old church turned restaurant has been a Norfolk favorite for years, and after dining there, I can see why. The food is top-notch, and as would be expected, the church's interior is beautiful. Before or after you eat, take a moment to admire the gorgeous stained glass windows.
The ambiance is warm and elegant but with a casual tavern vibe. Try the award-winning She Crab Soup or choose from fresh seafood, steak, or pasta. Reservations are highly recommended, especially on weekends.
La Brioche
765 Granby St.
Norfolk, VA 23510
Facebook
Music Cue: "La Vie on Rose". It truly feels like you're in a French pâtisserie when you taste anything from La Brioche. This brightly colored bakery in Norfolk's NEON District is a do-not-miss-when-in-Norfolk stop.
French is spoken freely here (something that does my heart good), and the French owners bake homemade bread and pastries in an authentic Parisian style. There are croissants, baguettes, tarts, eclairs, cakes, madeleines, etc., and La Brioche serves delectable sandwiches and has a cute and cozy sitting area on the second floor.
I tried the almond croissant, and it nearly melted in my mouth. Absolute perfection. Thin, crispy outside with soft, buttery, and flaky layers and a homemade almond cream filling inside. It's beyond anything I've had in the states before.
Handsome Biscuit
2511 Colonial Ave.
Norfolk, VA
Website
Goodbye, boring breakfast. This "hole in the wall" hidden gem serves up scrumptious sweet potato biscuit sandwiches that positively melt in your mouth.
The restaurant is very small, so it doesn't have space for indoor dining, but several picnic tables are outside. It can get busy, but it's worth the wait!
I ordered and then inhaled the "Shorty" with an over-hard egg, cheddar cheese, and thick-cut bacon on a sweet potato biscuit.
Hummingbird Bakery
809 Granby St.
Norfolk, VA 23510
Facebook
If you're like me and have never been too fond of macarons, please try one (or a half dozen) from Hummingbird Bakery because it will completely change your mind. I don't know whether it's the wildly inventive flavor combinations or that the cookies have the perfect texture, but I LOVED every one of the macarons I bought and regretted not buying more.
Be sure to try Hummingbird Cake, the bakery's signature flavor. I also loved Rose Water, Blackpepper Raspberry, and Vanilla Birthday.
Torch Bistro
601 Orapax St.
Norfolk, VA 23507
Facebook
This Chelsea neighborhood favorite has a funky industrial vibe and an inviting outdoor space with picnic tables, cornhole boards, and a fire pit. Grab a beer and order one of their many burgers, sandwiches, or salads, and enjoy lunch on the patio.
I ordered a BLT with sweet potato waffle fries, and everything was exceptional. It's not one of those wimpy, limp BLTs you sometimes get; my sandwich was thick, hefty, and stacked with a generous amount of fillings.
Cure Coffeehouse
503 Botetourt St.
Norfolk, VA 23510
Website
Stop in for delicious craft coffees, loose-leaf teas, or unique specialty beverages in this cozy cobblestone street coffeehouse located in the Freemason district. Cure NFK also serves craft beer, wine and cocktails, and breakfast and lunch sandwiches all day. (Open mic nights Thursdays, live music events.)
Saltine's Apothecary Bar
100 E. Main St.
Norfolk, VA 23510
Website
This mixology cocktail bar serves up handcrafted cocktails, and the bartenders know what they're doing. The classics are done beautifully, but if you want them to customize something special for you, they'll come up with your new favorite drink. With its calm and relaxed vibe, you'll want to hang out for hours.
If you're in the mood for dinner, you'll find some of the city's best seafood options here.
Grain Rooftop Beer Garden
100 E. Main St.
Norfolk, VA 23510
Website
Sister to Saltine, Grain is Norfolk's only rooftop beer garden and it serves up some of the city's best craft beer selections. The indoor ambiance is fantastic with enormous glass windows overlooking the patio and city.
On the patio, guests can enjoy cozy seating areas, lawn chess, a fire pit, and fabulous views of the Elizabeth River and downtown Norfolk. It's the perfect place to take in a sunset, de-stress and wind down.
If you have an appetite, the menu includes snacks, sandwiches, salads, tacos, and more.
The Bakehouse at Chelsea
1233 West Olney Rd.
Norfolk, VA 23507
Website
Plan an early morning arrival to try one of their famous cinnamon rolls. But if you can't come until later and the pastries have gone for the day, you can still try their other signature dish – PIZZA!
The Bakehouse makes the best Neopolitan-inspired pizza. It's shaped by hand and baked in a wood-fired oven, and it's impossibly delicious.
Grab it to go or sit on one of the picnic benches just outside the restaurant and enjoy the weather.
Brothers
200 E. Plume St.
Norfolk, VA 23510
Website
My visit to Brothers was part of a group dinner, so we had a fixed menu. However, all of our options were regular menu items, and my choice was so exceptional that I knew I had to include Brothers on my list of where to eat in Norfolk.
Our menu options were: Grilled Pork Chop, Salmon, Herb Roasted Half Chicken, or Fried Scallops, and I opted for the chicken dish.
Usually, I'd say chicken is chicken, but the Herb Roasted Chicken at Brothers is the BEST chicken I've ever had in my life. Even without eating the skin, the seasoning infused the meat with the most delectable flavor, and I couldn't get enough. It was incredible.
Mermaid Winery
330 W. 22nd St., #106
Norfolk, VA 23517
Website
Located in Norfolk's eclectic and historic Ghent District, Virginia's only urban winery produces wine using Virginia and California grapes. In addition to making its own wine, Mermaid Winery is also a wine bar and restaurant serving hundreds of worldwide wines. My red flight included South African, Italian, and Argentinian varietals.
Stop in for a vertical flight – the presentation alone is reason enough
Doumar's
1919 Monticello Avenue
Norfolk, VA 23517
Website
This historic Hampton Roads landmark is home to the world's first waffle cone machine. It's a four-iron machine built by Abe Doumar for his Coney Island ice cream stand in 1905, and it's still used every day to make fresh waffle cones.
I stopped for a quick afternoon ice cream cone and spotted the cone machine just inside the diner to the left.
The ice cream options are simple: chocolate, strawberry, or vanilla (and honestly, it's not as creamy as I'd hoped), but I got to try one of those waffle cones, and I'm not mad about that.
Doumar's offers old-fashioned curbside service as well as indoor seating. The diner is nothing fancy, but if you like a side of nostalgia with your meal, it's a fun place to stop when in the area.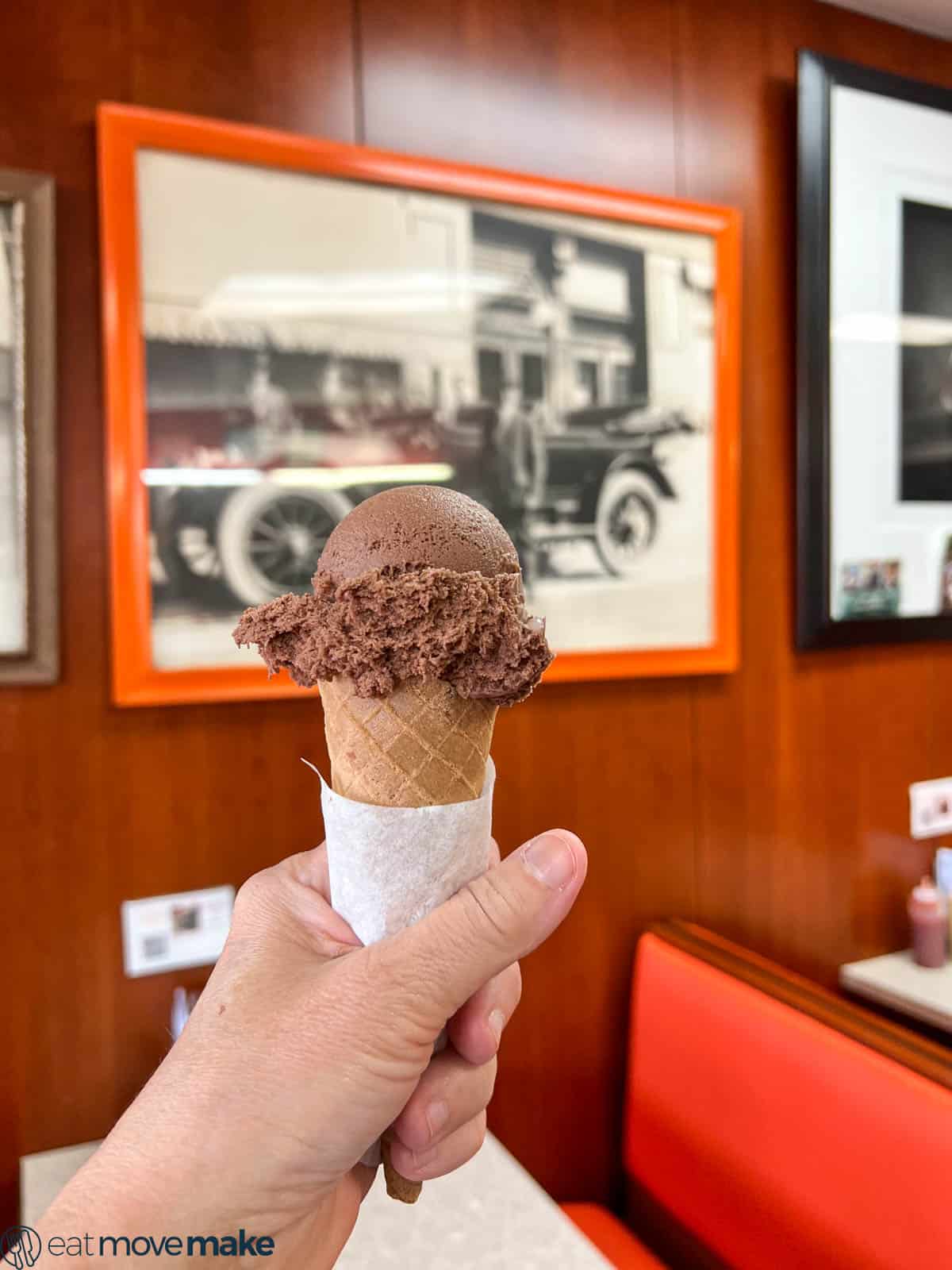 I know I didn't get to try all the restaurants in Norfolk I would have loved to try, but that gives me an excellent excuse to go back and visit again. If you have any other suggestions, I'd love to hear them!
Check out this list of Virginia Beach restaurants to try too. It's just 20 minutes away.
More Foodie Travel Ideas