I loved artsy and historic Milford, Delaware at first sight. and since it's the fastest-growing city in the state, it appears I'm not alone in my fondness for this quaint waterfront town.
Located about 25 minutes south of Dover on the Mispillion River, this charming little village will have you quickly falling in love with the slower lower.
I spent the better part of a day enjoying some of the following fun things to do in Milford Delaware and I can't wait to go back and do the rest!
Fun Things to do in Milford Delaware
1. Stroll along the Mispillion Riverwalk
The mile-long riverwalk weaves over and along the banks of the Mispillion River in the heart of downtown Milford. The riverwalk provides a wonderful greenway space for people to enjoy the waterfront and celebrates the town's strong shipbuilding heritage.
2. See Delaware's last remaining shipyard.
Vinyard Yachts crafted luxury wooden yachts from 1896 until 1951 right on the banks of the Mispillion River in Milford. Aside from its prestigious yacht construction, Vinyard's created submarine chasers for use during World War I and II and during Prohibition, Vinyard made 75-foot Coast Guard patrol boats to watch for alcohol smuggling.
One of the Coast Guard boats was later adapted into a private vessel named "Augusta". When the current owners uncovered Vinyard's history, they also found and restored the beautiful Augusta to her former 1927 glory and the showstopper still commands attention today.
3. Go on a mini yacht scavenger hunt.
Also celebrating Milford's shipbuilding past and in honor of the original "Augusta", there are 18 creatively painted yacht replicas scattered throughout downtown Milford. Each of the 4-foot fiberglass boats was painted by local artists and students in unique themes based on Milford's history, shipbuilding past, nature, river, and art culture.
Look for them near South Walnut and along the riverwalk. You can also download this brochure to use as a scavenger hunt checklist.
4. Paddle the Mispillion River.
Get out on the river with Delaware River Adventures for a two-hour, half-day or full-day river experience. Both single and tandem kayaks are available but keep in mind tandem kayaks are incredibly heavy and require a lot more effort to paddle.
5. Join a community bike ride.
Stop into Lifecycle to rent a bike for the river walk or bike trails and be sure to ask about current cycling events like the weekly community ride and Glow ride.
Lifecycle is a community-driven mom and pop shop that not only sells bikes for everyone, but they also hold a variety of helpful bike workshops and have a really nice selection of gift items in the store like bicycle chain earrings and the cutest 302 horseshoe crab merch.
6. Take a self-guided historical walking tour.
If you love architecture, this walking tour is not to be missed. There are more than a dozen sights to see including two magnificent historical homes that have been turned into bed and breakfasts: the Causey Mansion is the oldest home in South Milford and the pink Towers was originally a millinery shop.
Download the walking tour guide map for some interesting trivia on each location on the walking tour.
7. Grab a locally brewed beer.
When a brewery is located on a street called Mullet Run and serves up lagers with names like Not Today Satan, Space Otter and Holy Crap, it's impossible to resist. Also, their bathrooms won a gold medal award and somehow that does make a difference.
8. Sign up for an art class.
There's practically nothing you can't try at Mispillion Art League. Try your hand at Pysanka egg decorating, driftwood art, painting, stained glass, mosaics, sculpture, drawing and more.
9. Curb your cravings at one (or all) of the three indie bakeries.
Stop by My Sister's Fault for the best Puerto Rican-inspired sandwiches, empanadas and pastries.
Treat yourself to an iced turmeric latte and a slice of Philadelphia butter cake at Dolce Bakery & Coffee Shop.
And don't miss the quick-to-sell-out weekly specials at Fortunata's Bakery like Friday's tomato pie or Sunday's focaccia bread.
10. Visit the Milford Museum.
Located inside an old post office, the Milford Museum takes a fun look at local history.You can walk through on your own but if you have a few minutes, ask for a tour. The guide will point out some really interesting things!
11. Attend a Milford Festival.
The annual Bud & Bug Festival, takes place in late Spring every year and celebrates the ladybug (Delaware's state bug) and Arbor Day. It's one of Delaware's most popular festivals and it takes place rain or shine in the downtown riverwalk area.
In September you can look forward to the annual 3-day Riverwalk Freedom Festival and the Ladybug Music Festival.
12. Shop the Farmer's Market
Every Saturday from May through October, the Mispillion Riverwalk comes alive for the weekly farmer's market featuring locally grown and produced food and crafts.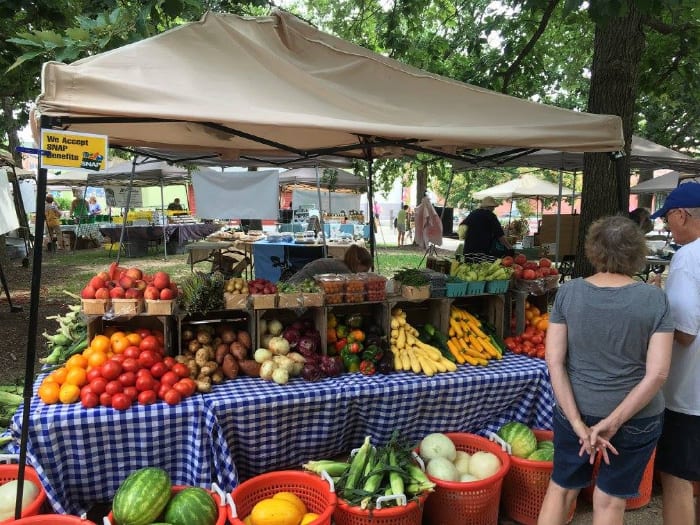 13. Shop small and artsy with a side of cat.
Be sure to stop into Gallery 37 for beautiful handcrafted art and decor from dozens of talented artisans. And if that's not incentive enough, the two resident Himalayan cats ought to be. I'll go anywhere for cats!
14. See the running of a historic grist mill.
Guided tours of the historic working grist mill at Abbot's Mill Nature Center are given every third Saturday from 2-3:30 pm.
Also on-site is a visitor center with a small collection of animals and 5 miles of pet-friendly hiking and biking trails that wind from swampy areas through woodlands to meadows. There are also kayak and SUP rentals available.
15. Watch wildlife at Dupont Nature Center.
The most exciting time to visit Dupont Nature Center is when the horseshoe crabs are spawning in May and June and the shorebirds fly in for what they hope is a grand feast.
This science-based nature center focuses on Delaware Bay's natural history and ecology. Visitors can look through viewers on the observation deck for a close-up look at the bay, harbor and shoreline birds, fish and shellfish.
Inside the center, there are interactive exhibits and aquariums with horseshoe crabs, turtles, and a variety of fish. There are also live camera feeds of nesting ospreys and the spring spawning of horseshoe crabs.
Pin this post!
Which of these fun things to do in Milford Delaware do you want to do first?
For more information on Milford and Delaware's Quaint Villages head over to visitdelawarevillages.com
More USA Travel Ideas