I arrived into Hampton, Virginia by way of the Hampton Roads Bridge-Tunnel, and the view was gorgeous! It takes you across Hampton Roads and under the main shipping channels of this historic and very pretty Virginia harbor city. Because this northern'ish harbor remains ice-free year round, it's one of the busiest in the world. Add in Norfolk, the largest naval base in the world, and you've already got some understanding of Hampton's historical significance.
Historic downtown Hampton, VA is completely walkable and totally charming, so if you're in the area, make a point to spend quite a bit of time there visiting the attractions and enjoying the Chesapeake Bay waterfront. I was invited by the CVB to spend three days in Hampton when I came for Historic Garden Week at Fort Monroe, and I still feel like it wasn't enough. There's more I want to do!
So let's talk about what to do and where to eat in downtown Hampton. (Keep an eye out for a future post on Fort Monroe and the Phoebus area.)
Hampton History Museum
If you've never been to Hampton before, start your visit at the Hampton History Museum. It'll give context to so much of what you'll see. Allow at least an hour to wander through the city's 400 year historical timeline where you'll discover the original Kecoughtan Indian settlement, the development of Hampton's thriving port, the notorious pirate Blackbeard, contraband and the Civil War, and finally the present day air and space legacy. (Plan a visit.)
Read more: Annual Pirate Festival in Greenville, NC
St. John's Church
Behind the Hampton History Museum lies St. John's Church, the oldest continuous English speaking parish in North America. The beautiful brick church was constructed in the shape of a Latin cross, and if you like cemeteries, take a stroll amongst the headstones as the collection is really quite diverse. The oldest headstone dates back to 1701. (Plan a visit.)

Hampton Carousel
How can you not love this little bit of nostalgia? The Hampton Carousel is one of only about 75 antique carousels still in existence today. In its heyday, it had its home on Buckroe Beach, and now it resides in a weather-protected enclosure on the downtown waterfront. No two solid hardwood-carved horses are alike, and the band organ and self-playing drums are original.  It's really quite a treat! Ride it for just $1. (Plan a visit.)
Virginia Air & Space Center
America's space program was born right here in Hampton, Virginia, so there's no better place to experience 100 years of flight. With three levels of exhibits, over 100 interactive displays, and a 5-story-high 3D IMAX Theater, everyone has something to get excited about!
The exhibits are amazing, and hands-on activities include traveling to Mars and exploring its surface with a rover, testing your fighter pilot skills in the new FA-22 Raptor, and visiting the Solarium, where you can see, stand next to and listen to the sounds of the sun. It's very cool! (Plan a visit.)
Hampton University Museum
This is the oldest African-American museum in the U.S., and it's housed in the original Hampton University library. The university was first called the Hampton Normal and Agricultural Institute. Upon its founding, the university served to educate freed slaves (and later American Indians), and the extraordinary museum collection includes over 9000 African, African-American, Asian, Pacific and and American Indian artifacts, including Henry Osswa Tanner's famous painting, "The Banjo Lesson". Allow at least an hour to see everything. Admission is free. (Plan a visit.)
Harbor Tours
Get out on the water for a few hours and enjoy a narrated tour of the beautiful Chesapeake Bay and Hampton Roads Harbor where the infamous Monitor and Merrimac battle took place. You'll also cruise by the Norfolk Naval Base with its giant warships, see Blackbeard Point and stop at Fort Wool with time to explore. (When I was in Hampton, the weather took a turn for the awful on the day I planned to take the cruise, so I totally missed out. But it's a must-do!)
Downtown Hampton Restaurants
Conch & Bucket
Conch & Bucket could be considered upscale casual, but the exposed brick walls and fun chalkboard wall of specials keep the atmosphere cozy and comfortable. The menu is heavily seafood-based, but not completely. I enjoyed a perfectly cooked steak, mashed potatoes and some to-die-for mac and cheese. Great place to eat!
Venture Kitchen & Bar
Tapas to share and brick oven pizza — what could be better? The varied menu also includes salads and sandwiches, but I'm not one to pass up pizza very often, so after an appetizer of house-made (and square!) tater tots, I dug into the 'Everybody's Pizza'. Thanks for the tip to add ricotta cheese, Ryan. So yummy!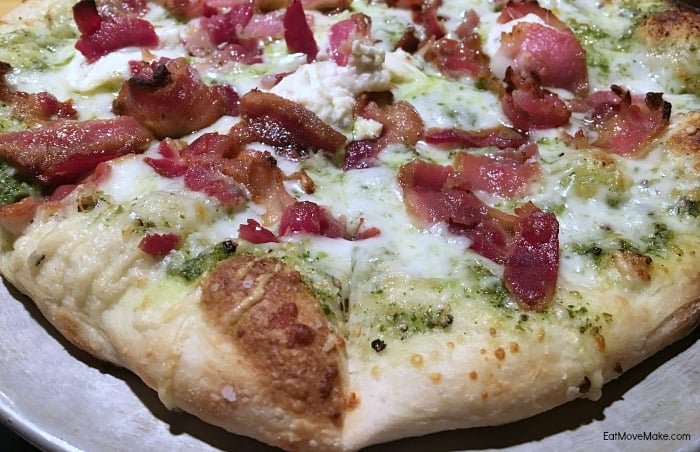 Find Other US Destinations to Visit