Culpeper, Virginia is such a fun place! The historic downtown district is lined with local restaurants and cute specialty shops, and if you can bear to leave the quaint downtown area, the scenic countryside is well worth exploring. It's the perfect weekend getaway for couples or girlfriends. Keep reading to uncover the best things to do in Culpeper, VA.
Read Next: Escape to Fauquier County Virginia: Things to Do in Warrenton VA and Beyond
I partnered with Visit Culpeper for accommodations and meal expenses. My experiences and opinions are my own.
Where is Culpeper, Virginia?
Things to Do in Culpeper VA: Downtown
If you're staying downtown like I did, you can walk to breakfast every morning. There are several cute options to choose from.
Start Your Day With Coffee and Breakfast
If you're looking for specialty coffees, teas, morning smoothies, and simple bites, head to Raven's Nest. The cozy coffee house serves delicious breakfast sandwiches, avocado toast, bagels, and quiche.
For a more traditional sit-down breakfast in a fifties-style diner, visit Frost Cafe. Their homestyle cooking is mighty good!
If you have a sweet tooth, pop into Knakal's Bakery, a Culpeper institution, for one of their delicious fried doughnuts. We also love the fresh cinnamon buns at Moving Meadows Farm Store (business currently for sale, so get your baked treats while you can!)
Take a Photo at Culpeper's LOVE Sign
Most of the Virginia LOVEworks signs are thematically designed by location, which makes them even more fun! The Culpeper "Reel LOVE" sign is made of old film reels, a connection to the nearby Library of Congress Packard Campus, home to one of the largest audiovisual archive collections in the US.
Explore the Downtown Shops
There are many boutiques and specialty shops in downtown Culpeper, each with unique and irresistible finds. A few of my favorites include:
The Cameleer – Around-the-world finds, home goods, jewelry, and adorable Christmas ornaments.
Reigning Cats and Dogs – Everything imaginable for your pets and some fun things for you.
Green Roost – Super cute, eco-conscious, socially responsible apparel, jewelry, and gifts.
Le Monkey House – Offbeat things you never knew you needed but must have.
Check Out the Downtown Walls
Keep your eyes open for beautiful murals while shopping and eating along East Davis Street. Remember to peep in the side streets and alleyways.
Grab Lunch in Downtown Culpeper
It's About Thyme – Guests can sit inside the restaurant or outside on the alleyway patio of this old-world casual cafe. The European-style dishes are creative and beautifully presented, and it all starts with some fresh-baked focaccia bread.
Pinto Thai – The food is exceptionally delicious here, and meals are also delivered via robot. A server will take your order, but when it's time to eat, a robot rolls up to your table with your meals.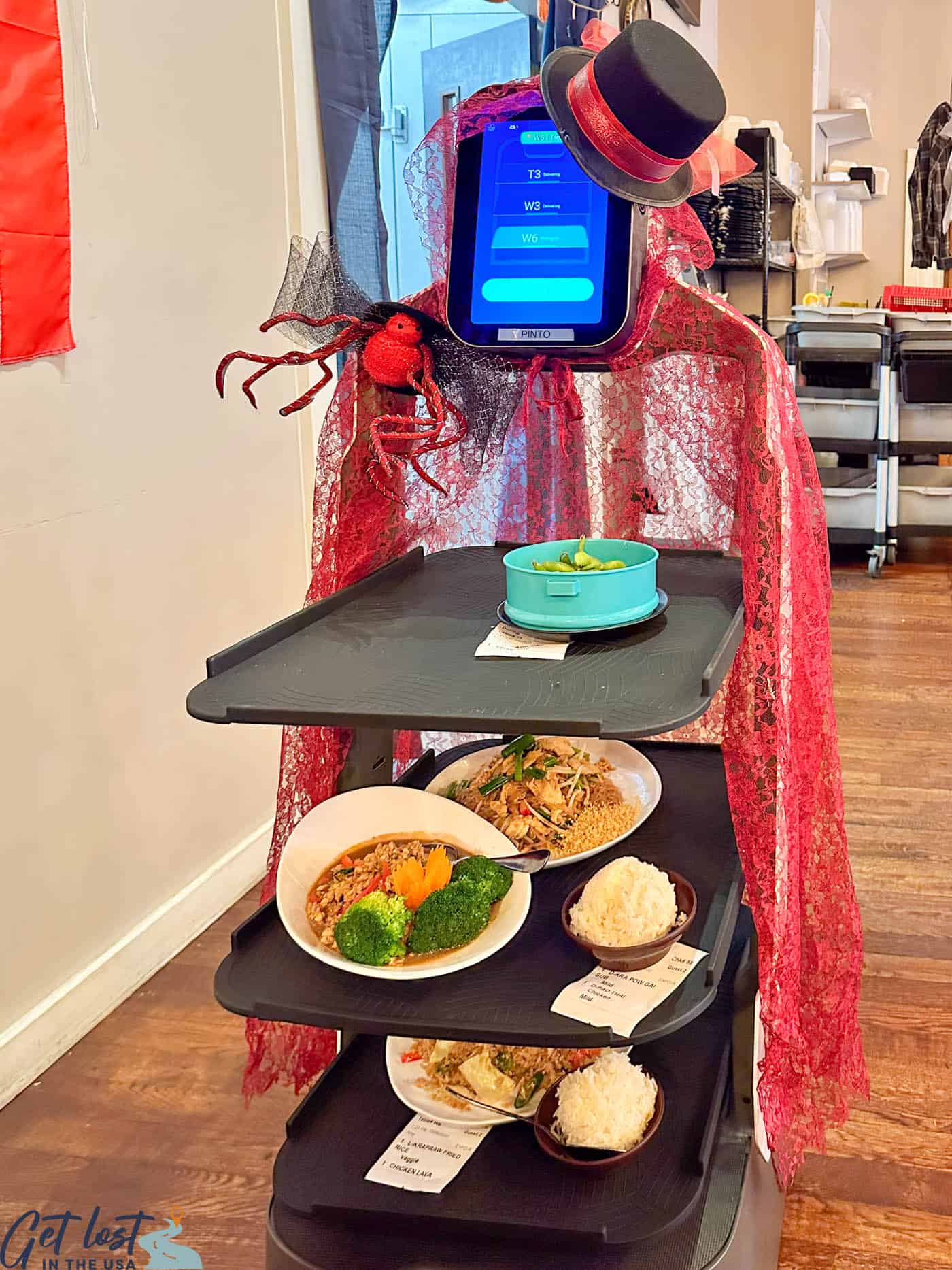 Dig for Antique Treasures
Visit MinuteMan Mini Mall and peruse two floors of antique anything and everything. Good luck leaving empty-handed! I sure didn't.
Remember those big yellow 1970s Betty Crocker recipe card libraries where the cards were part of a monthly subscription? My mom had one, and I found the box with all the cards for just $10. Total score! They're selling on eBay for at least twice that.
Things to Do Near Culpeper VA
Head out into the countryside for a scenic drive and swing by local farm stores, a brewery, a distillery, and whatever else catches your eye.
Be Adventurous
Verdun Adventure Bound has 67 acres with a challenge course including thirteen unique low rope challenges, eight dynamically belayed high rope elements, a 45′ climbing tower, a six-element statically belayed high ropes course circuit, a four-element adaptive high ropes course, and three zip lines.
Verdun's primary objective is to offer customized team-building programs with various problem-solving experiences in the great outdoors, but private parties and groups can take on the challenge ropes course.
Verdun also offers primitive camping and hosts a summer concert series on the lawn and a holiday light show hayride in December.
Address: 17044 Adventure Bound Trail, Rixeyville, VA 22737
Website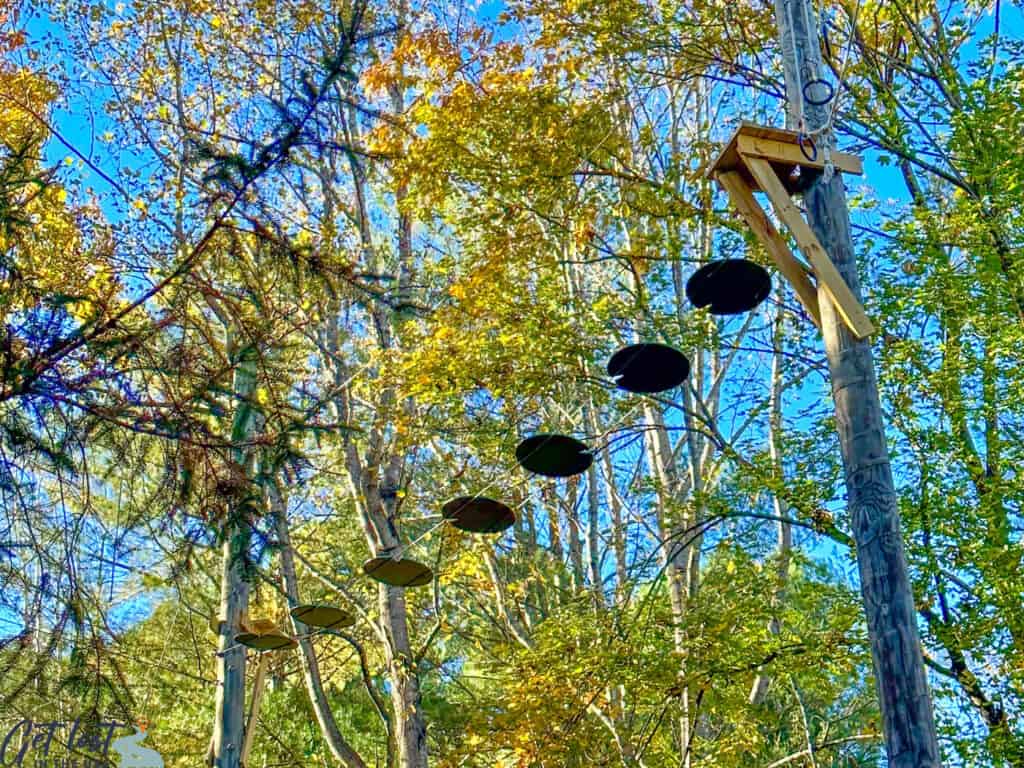 Taste Old-Time Copper Kettle Virginia Whiskey
Old-time traditions carry on (legally) at Belmont Farms Distillery, where they continue to use a genuine copper pot still to produce their whiskey. Visitors can take a tour and see the working still, taste samples of the distillery's selection of spirits, and purchase favorites from the gift shop. Belmont Farms also hosts special events with live music.
Address: 13490 Cedar Run Road, Culpeper, VA
Website
Visit a Culpeper Farm Store
There are over a dozen traditional and unique farms throughout Culpeper County, many of which are featured during the annual Culpeper Harvest Days. Here's a sampling of a few we visited and loved:
Oak Shade Farm Store – Open by appointment. The views here are reason enough to visit, but the handcrafted gifts, blankets, and furniture are remarkable. They also bottle honey from their beehives and make homemade jam. In December, you can choose your own Christmas tree. (14455 Waterford Run Lane, Rixeyville VA)
Bees and Trees Farm Store – Buzz in for adorable bee-centric gifts, locally sourced honey products, beeswax candles, and more. They also have some cute little farm animals. (18028 Carrico Mills Road, Elkwood, VA)
Moving Meadows Farm (see above breakfast section)
Indulge in a Night of Brews, Bites and Beats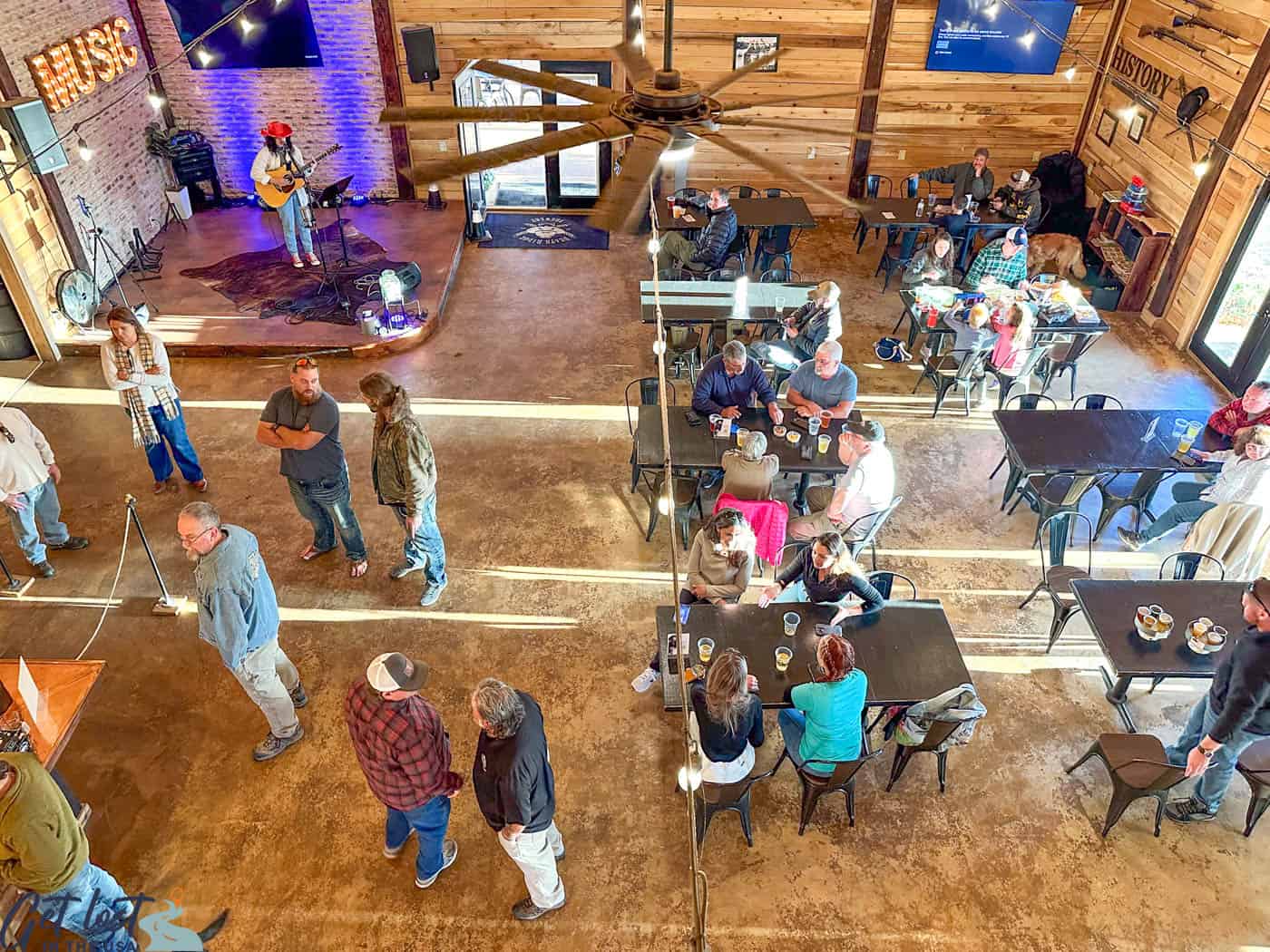 Spend an evening at Death Ridge Brewery enjoying live music (Thursday-Sunday) along with your sips. The brewery has a simple pub menu but also hosts the Graze to Griddle food truck on Thursdays and various food trucks Friday through Sunday.
Tip: Graze to Griddle also has a brick-and-mortar restaurant, so you may want to add that to your things to do in Culpeper VA list.
Don't miss the gorgeous sunset awaiting you outdoors.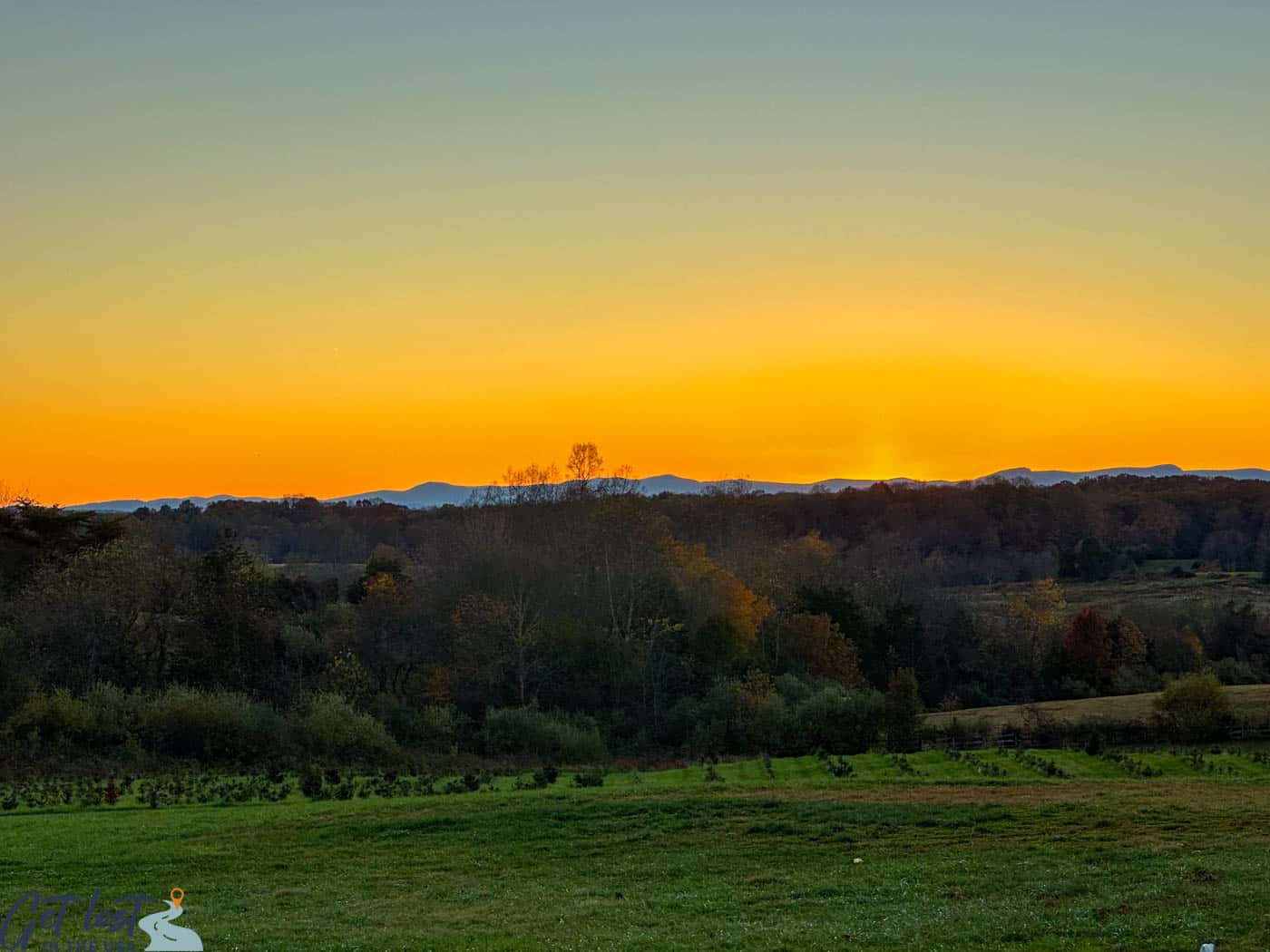 Address: 5393 Higher Ground Trl, Jeffersonton, VA
Website
Where to Stay in Culpeper
We stayed at the West Davis Mill, a Let's Go and Stay property, a mere 5-minute walk from the center of downtown.
If you prefer a traditional hotel, you may want to check availability at the Hampton Inn or Holiday Inn Express outside the downtown area.
Explore More of Virginia