If you're looking for a getaway that combines the beauty of the great outdoors with charming small-town vibes, check out Fauquier County, Virginia. There are countless things to do in Warrenton, VA's Old Town historic district, but lots more to explore in the surrounding countryside. Fauquier County is a scenic hidden gem and makes a wonderful weekend road trip.
Follow along as we start with a stroll along Old Town Warrenton's quaint streets, then head out on a scenic drive into farm country and the sweet little town of Marshall. And trust me, there will be some great eats along the way! So, keep reading as I show you all the fun things to do in Warrenton, VA, and all of Fauquier County.
Read Next: Airlie Hotel: A Scenic, Sumptuous, and Serene Virginia Retreat
THINGS TO DO IN WARRENTON VA
Warrenton is a great place to start (and to stay) as you explore the region. The quaint downtown has a rich history as well as a vibrant Main Street lined with boutique shops, art galleries, and charming cafes.
Read Next: Small Town Explorations: Things to Do in Culpeper, VA (Downtown and Beyond)
Where to Stay (Hotels in Warrenton VA)
Snap an Old Town Warrenton Selfie
Whether you're doing it for the 'gram or just because you love street art (like me!), you won't want to miss snapping a pic of the Old Town Warrenton postcard mural.
Visit the LOVEworks Sculpture
I'm a sucker for a LOVEworks sign, and this railway-themed sculpture is one of my favorites. You'll find it at the train depot along the Warrenton Greenway Trail. There's also a restored little red caboose there!
Discover Warrenton's History and Architecture
The picturesque Old Courthouse sits perched on a hill at the north end of Main Street in Courthouse Square, and it may very well be the first thing you see as you arrive in Warrenton. It's a show-stopper!
On the creepier side, pop into the Fauquier History Museum at the Old Jail, located to the side of the courthouse. You can explore two jails and the hanging yard, hear stories of the prisoners and take a ghost tour if you dare (seasonally). The museum also displays artifacts related to Fauquier County's overall history. It's definitely one of the can't miss things to do in Warrenton VA.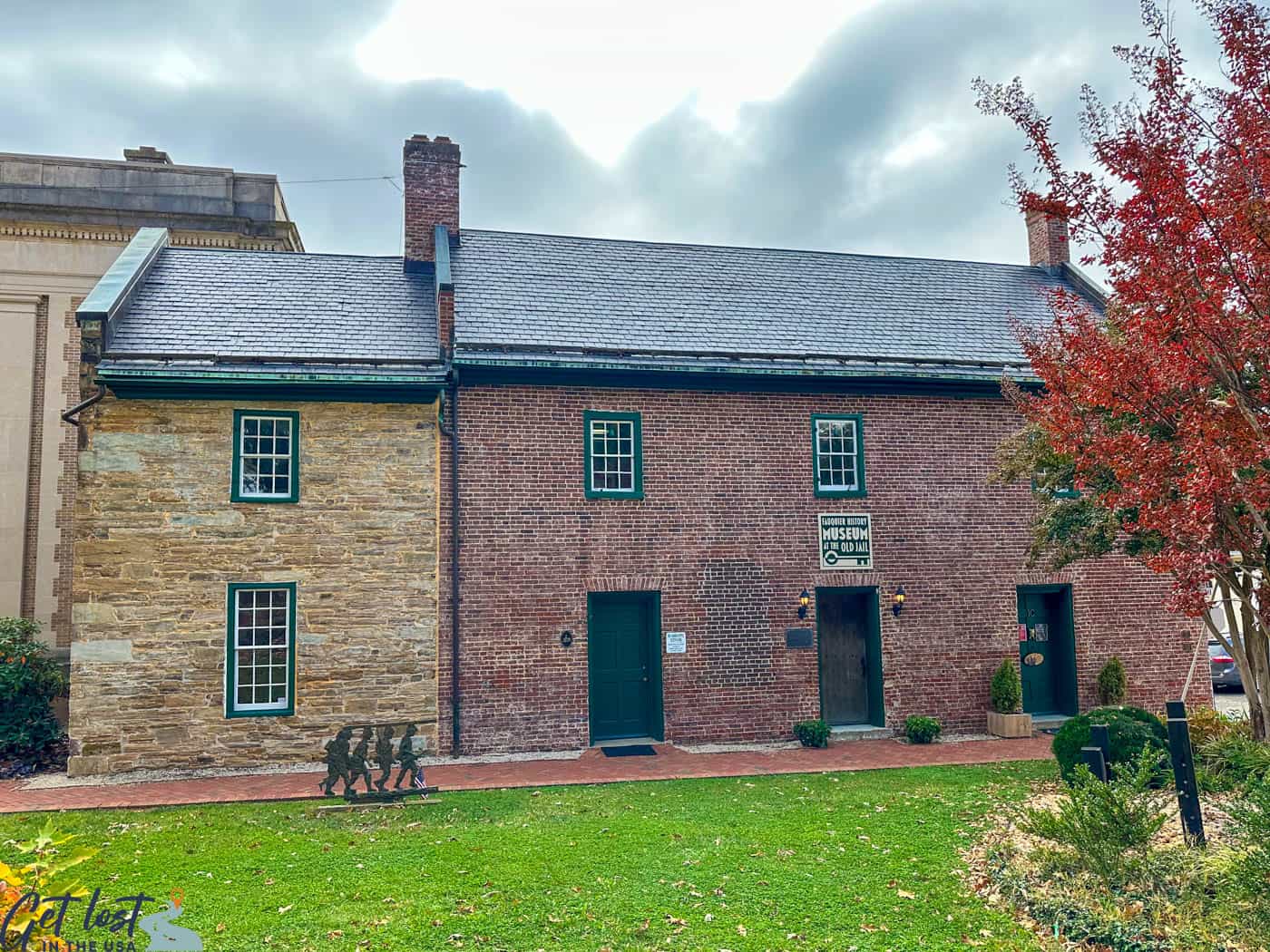 Stop for a Sweet (and a Selfie) at the Red Truck Bakery
22 Waterloo Street, Warrenton, VA
The Red Truck Bakery's iconic red truck sits outside a historic 1921 Esso filling station that has been repurposed as a local bakery with the best cakes, pies, muffins, homemade granola, bread, and coffee. The treats are so well-loved that there are two cookbooks featuring some of the favorites, and yep, you can buy those there too.
Shop Local
The shops in Warrenton are really fun to browse. My favorite is Latitudes which carries an irresistible collection of fair trade gifts, jewelry, clothing, and home accessories.
Grab a Bite at Denim and Pearls
29 Main Street, Warrenton, VA
This upscale casual eatery serves Italian cuisine with a creative, modern twist. I loved my Bucatini Pesto Pasta made with fresh bucatini, pumpkin seed basil pesto, spinach, and crispy cauliflower. An unexpected combination, right? But, so delicious!
EXPLORE MORE OF FAUQUIER COUNTY VA
Have Breakfast at Red Truck Rural Bakery
8368 W Main Street, Marshall, VA
Yep, I'm mentioning Red Truck Bakery twice because there are TWO of them—one in Old Town Warrenton and one in Marshall and they're SO DARN GOOD. The Marshall location is the main cafe, so we popped in for a breakfast sandwich, and I left with a bag full of yum—do NOT miss the granola—and both of the Red Truck Bakery cookbooks!
By the way, they ship their bakery items through Goldbelly, so you can have them forevermore.
Tour a Wagyu Farm
Ovoka Farm – 750 Gap Run Rd, Paris, VA
Ovoka Farm is a historic F1 Wagyu beef farm nestled in the foothills of the Blue Ridge Mountains and the scenery is out of this world—even on a rainy day!
Along with the scenery, the themed farm tours allow guests of all ages to learn about Wagyu beef, the breed's history and Ovoka Farm's sustainable farm practices. There are also tasting tours for adults and mini-moo tours for the little ones.
And you can get up close to the cattle (and their adorable babies). What could be better than that?
Want to stay overnight? Farm stays can be arranged at either the Farm Manor House or the restored 1800s BunkHouse Cabin.
Dine at Field & Main
8369 W Main St, Marshall, VA
You're in for a treat at Field & Main; it's an award-winning farm-to-table restaurant. The menu changes daily based on the season's bounty, and everything is thoughtful, creative, and impossibly delicious.
We stopped in for lunch and had smash burgers with the most delicious shitake mushroom bacon jam, along with carrots, green beans, and crunchy potatoes. Chef-owner Neal Wavra also expertly paired a selection of wines to complement our meal.
Located inside a renovated historic home, Field & Main offers indoor dining and outdoor private cabana dining.
Sip & Savor at Virginia's Vineyard Vistas
Arterra – 1808 Leeds Manor Road, Delaplane, VA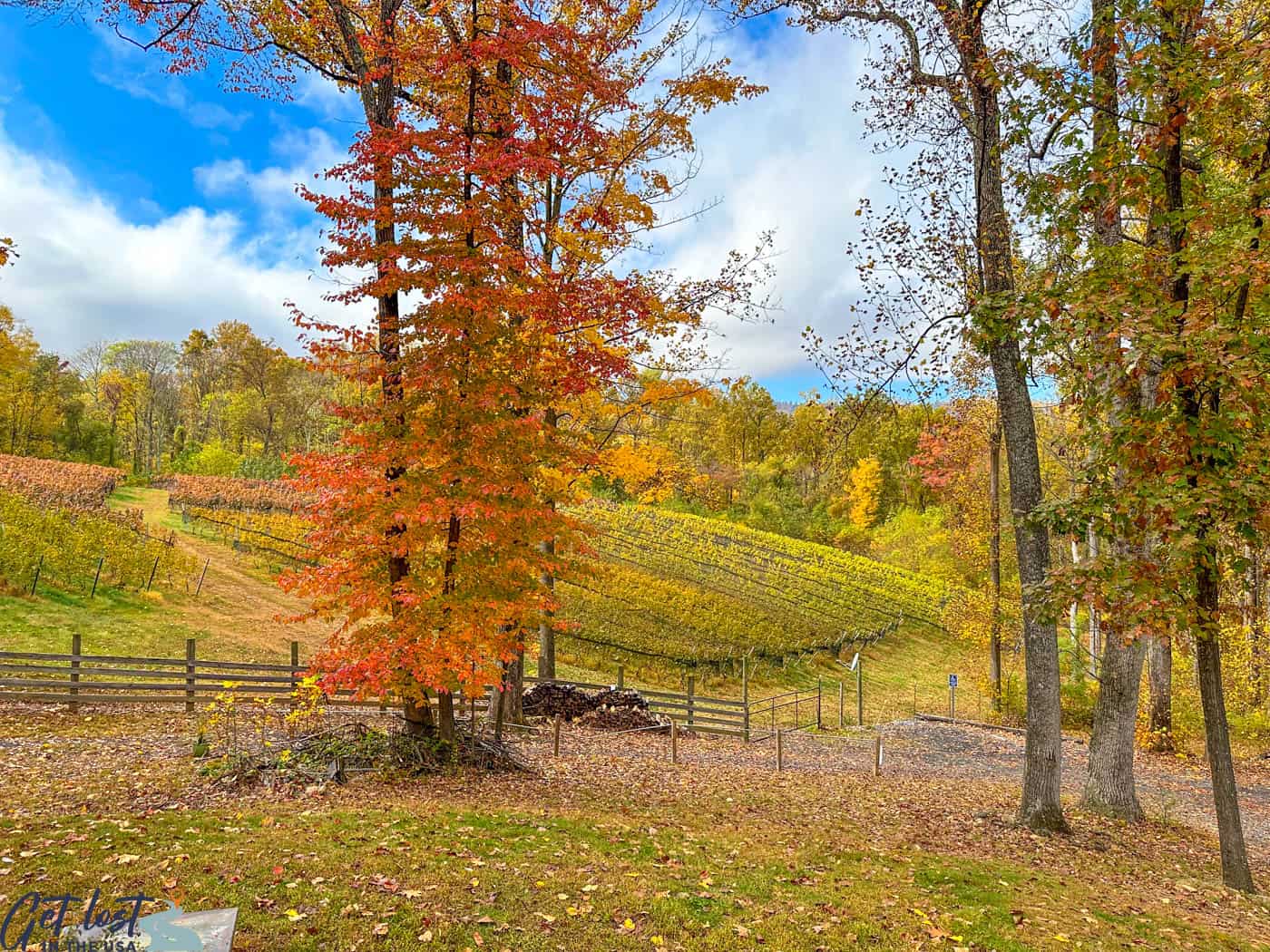 With more than two dozen wineries in Fauquier County, you're going to have a tough time choosing which ones to visit, but if you're looking for something a little different, I highly recommend heading out to Arterra Wines & Hawkmoth Arts in Delaplane.
With a minimalistic approach, they ferment all of their wine using native yeast, no additives, and only a tiny bit of sulfites. The result is true Virginia-style high-quality wine.
The "clean wine" technique captures flavor differences based on the vintage year, fruit sources, and that year's weather patterns without adding fining agents.
My picks: Cabernet Franc, Petit Verdot and Dry Rosé. I bought a bottle of each one to take home with me.
A visit to Arterra comes with a bonus—Hawkmoth Arts. The nature-inspired pottery is made using leaves from the canopy of trees surrounding the winery. The creative handcrafted art is unique and, oh, so stunning.
Explore More of Virginia