The Percival's Island Trail is just one section of the expansive Lynchburg VA trails system. There are over 40 miles of trails crisscrossing some of the city's most picturesque, historic and memorable natural areas.
Each of the trail sections has a different name (which is either genius or incredibly confusing), but we decided to bike Percival's Island first, a flat, paved and mostly shaded trail that begins downtown.
Thank you to Lynchburg Tourism for hosting me.
After renting our Townies from Bikes Unlimited, we pedaled our way to the LOVE sculpture for a fun photo op.
This particular LOVEworks sculpture shows how people can enjoy the Lynchburg VA trails network and the James River natural area: walking, hiking, biking, paddling and skateboarding.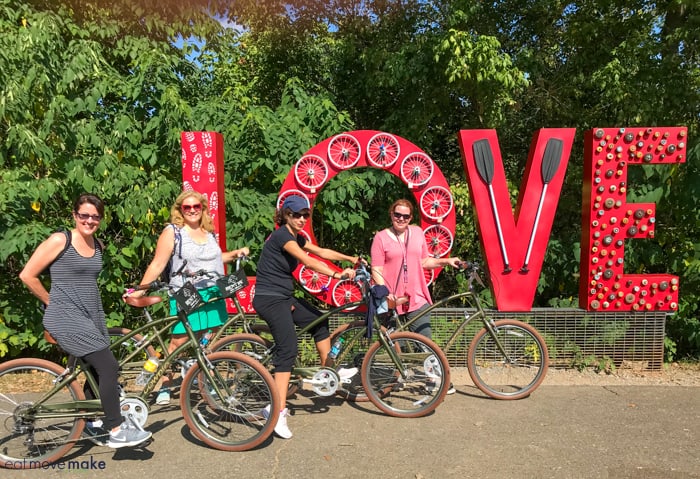 The Percival's Island trail traverses the length of the island natural area (about 1 1/2 miles) on what used to be the old railroad bed, and it offers beautiful views of the James River.
At the beginning of the trail, there's a stairway down to the island. It's a great place to throw in a line, have a picnic or go wading.
But we jumped on our bikes and took off for a leisurely ride along the banks of the James River.
In spite of the 90 degree plus temperatures, the shade and breeze kept us relatively cool, and we rode to the route's end.
On the way back, we took the time to stop, explore and take photos by the Virginia Rocks and from the bridge.
The Virginia Rocks display includes a sampling of rock types found throughout Central Virginia and was put together as an Eagle Scout project.
I just wished they'd labeled the rock types!
My favorite part of the bike ride was over the old railroad bridge spanning the James River.
And the natural area overlook view was simply stunning.
Had it not been such a hot and humid day, we would have continued our ride from Percival's Island onto more of the Blackwater Creek Trail.
If you bike along the Blackwater Creek section of the James River Heritage Trail, you can ride through the Hollins Mill Tunnel – an abandoned railroad tunnel.
On a hot day, it can be especially refreshing since the temperature is cooler and water seeps from the ceiling. It's a fun half-mile ride through the old railroad tunnel and it's well-lit inside.
Don't miss the nearby Hollins Mill Dam and park. Bring burgers and dogs to throw on the grills for a picnic or spend an afternoon fishing.
Another wonderful natural area is the Awareness Garden, created to honor those whose lives have been touched by cancer.
It's a tranquil and serene place to slow down and unwind.
Grab a bike and hit the Lynchburg parks and trails. There are lots of ways to get outside, have fun and be active in Lynchburg's natural areas!